Sneak Peak at the Snom D785: 4.3-inch Color SIP Phone With 24 Self-Labeling Keys
Snom has been known for its affordable and reliable IP phone solutions. Their SIP 700 Series features VPN, auto-provisioning & redirection, remote management, and more advanced capabilities. To take your communication experience to an even higher level, today, Snom introduced a whole new deskset, the D785, to provide you a larger color display and more advanced support. Let's delve into the details!

4.3-inch Color Display With 24 Self-Labeling Keys
The D785 is a 12-line SIP Phone featuring a 480×272 large color LCD display for a clearer view. The 24 self-labeling keys (4 pages) allow you to customize your phone to better fit in your business and work environment. Need more flexibility? Pair the D785 with up to three D7 expansion modules to gain 18 more programmable keys per module with multi-color LED! The D7 expansion module is compatible with all D700 series phones except the D710/D712.
If you are looking for a powerful and flexible deskphone, you won't want to miss the D785 deskset! Bluetooth, EHS, Dual Ethernet ports (GigE), and Power over Ethernet (PoE) are just some of the flexible connectivity options offered by the D785. You will be able to easily connect your device to a headset and power it without an additional power supply. Best of all, the D785 also comes with optional WiFi and DECT support via a USB port, giving you the freedom to have a hands-free conversation!
Key Features:
Optional WiFi and DECT Support via USB port

Dual Ethernet ports (GigE)

EHS adapter support

Support for up to three D7 expansion modules

USB Port

Support for up to 12 SIP lines/accounts

Soft bumpers to "mute the handset click"

SIP and PCAP trace in phone

VPN

Remote management: TR-069/TR-111

Auto-provisioning and redirection

Best-in-class audio
Check out how the new D785 deskset compares to other IP Phones in the SIP 700 suite below!
SIP 700 Series Comparison Matrix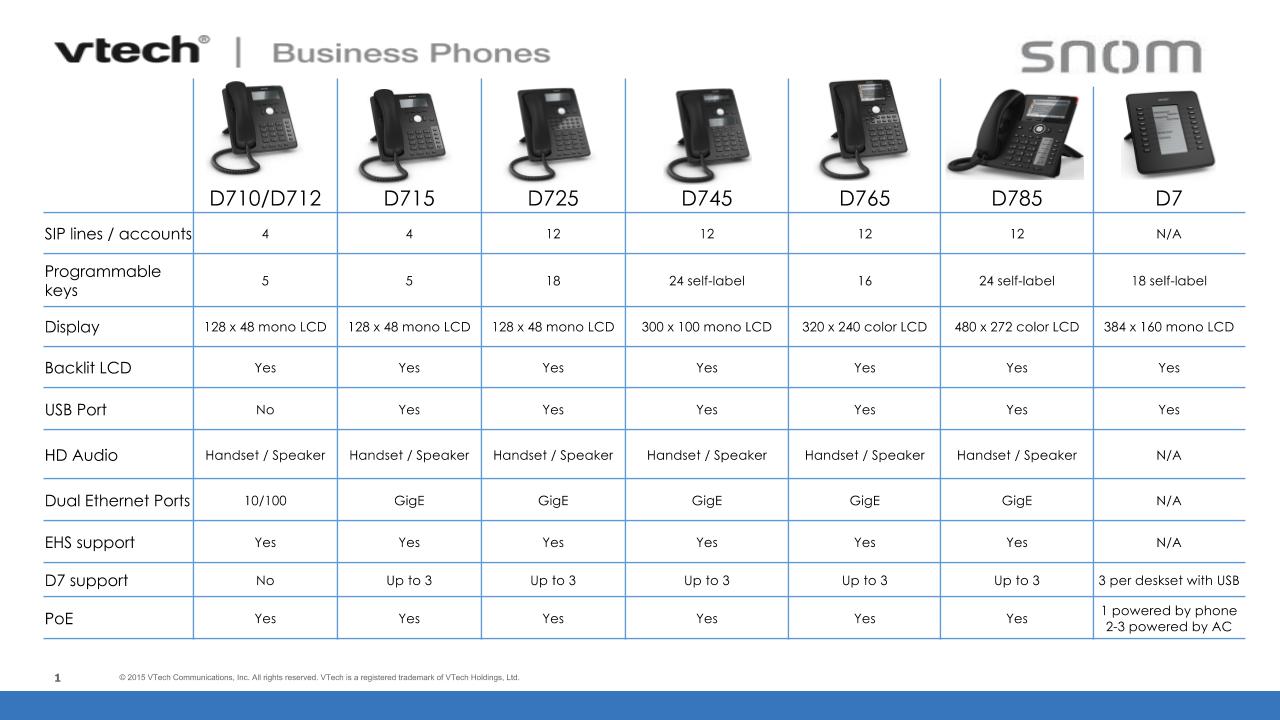 Availability of the D785
The D785 IP Phones will be officially released in early February 2018. Stay tuned! Meanwhile, mark your calendar for our D785 Product Webinar on Jan. 29th as we share the product details, advanced features, Snom 700 Series comparison, and more!