Top 3 Refurbished Poly Deskphones for Your Office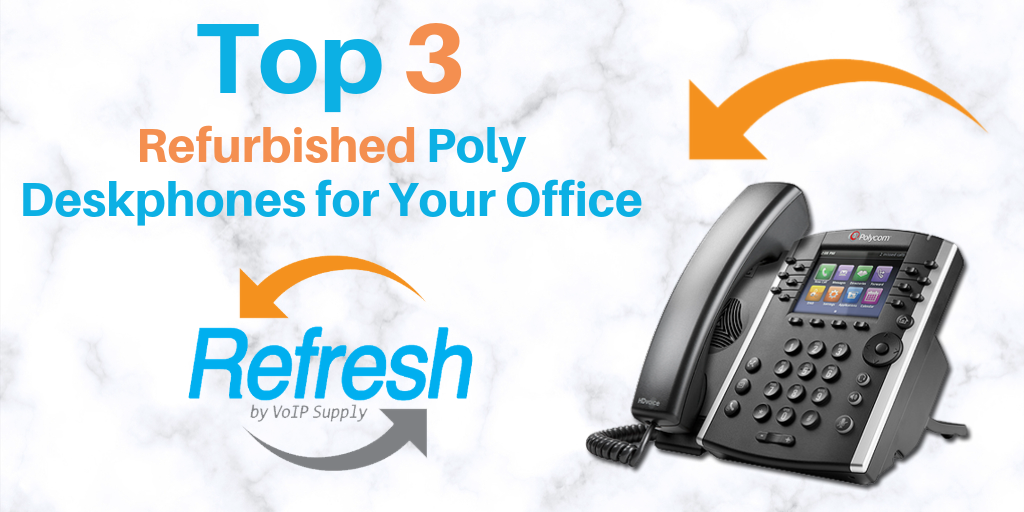 VoIP Supply offers an entire catalog of Poly's products. From deskphones, conference phones to the most minimal cable that a customer might need to connect their headset. 
Not only do we offer new Poly hardware, but we also cater to the needs of customers who want a durable product that is not new with our Refresh line. 
VoIP Supply's Refresh provides an affordable, yet trustworthy option of used VoIP phones. 
And a great part of our Refresh catalog are Poly phones. Why? Because Poly phones are engineered to last, built with quality materials that have a long life cycle. 
Check out some of our Poly Refresh phones?

A great solution for the business user who needs a simple phone with a grayscale screen, intuitive interface and great voice quality. The VVX 611 can handle up to 6 lines and has dual gigabit RJ45 ports. 
Learn more about the VVX 311 here. 

The VVX 411 is a high-end phone that offers a color LCD display. It can handle up to 12 lines and has 12 hard keys with the option for users to add an expansion module. 
Learn more about the VVX 411 here. 

If your needs call for a conference phone, then Refresh has you covered with the Polycom IP 7000. This is a conference phone that can be powered by Power over Ethernet (PoE). It has a 20-foot range voice pick up and features Polycom's patented Acoustic Clarity Technology. The IP 7000 is great for executive offices, board rooms and small conference rooms. 
Learn more about the Polycom IP 7000 here. 
These Polycom models are just a few of the models we offer, but we have a large selection of Refresh phones in our warehouse.
For those who are interested in Skype for Business phones, we would be happy to provision the phones for you at no extra charge! 
If you have questions about our Refresh program or simply want to learn more, don't be shy, reach out to us at 1-800-398-8647.