Troubleshooting – My Snom C520 Conference Phone Doesn't Ring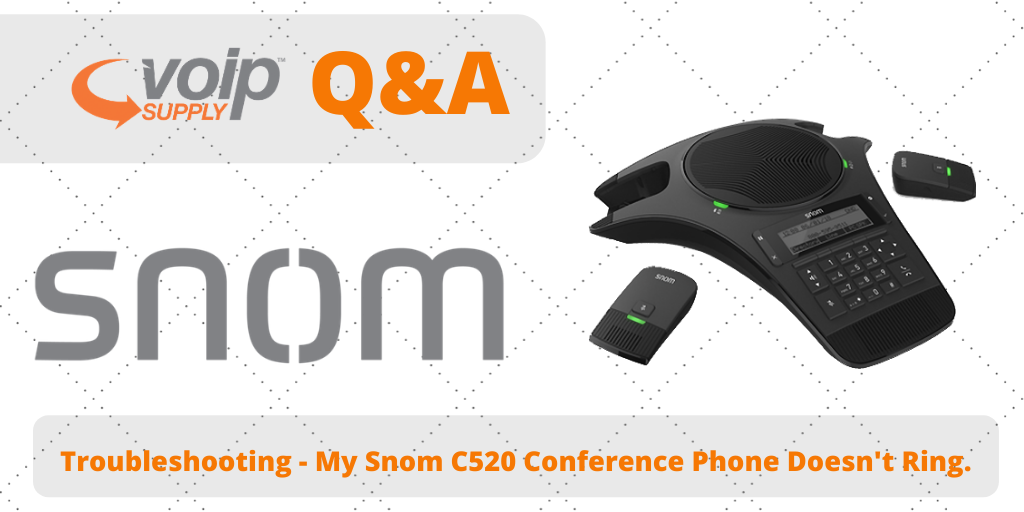 Our tech support team at VoIP Supply offers great pre- and post-sales support plus provisioning, consultations, configuration, and installation help. We get a lot of VoIP hardware and software questions and would like to share the solutions with everyone.
In previous Mom's calling Q&A series, we have discussed: What versions of FreePBX provide a high availability HA solution? Today, we have more new real questions and answers from VoIP users just like you.
What can I do when my Snom C520 doesn't ring
Q: What can I do when my Snom C520 doesn't ring when there's an incoming call?
A: You can try the suggestions below:
Make sure there is a dial tone before dialing.
Make sure the ringer volume of the phone is not set to off
Make sure the DC power cable, Ethernet cable, AC power cord, and the power adapter are plugged in properly
If other telephones in your office are having the same problem, the problem is in the wiring or IP PBX service. Contact your service provider (charges may apply) or system administrator.
Other electronic products such as ham radios and other DECT phones can cause interference with your conference phone. Try installing your conference phone as far away as possible from these types of electronic devices.
Unplug the AC power cord from the wall outlet. Wait for approximately 15 seconds, and then plug it back in. If you still cannot get a dial tone, please contact our customer service hotline designated above for assistance.

STAY TUNED
Come back for more VoIP questions and answers next time! If you have VoIP questions to ask us, please submit a technical support ticket or contact our VoIP experts today at (866) 582-8591