Used Poly finds at a fraction of the cost
VoIP Supply is pleased to offer refurbished options for the cost-oriented user who values a good bargain. Through the VoIP Supply Refresh line, we have a number of used, yet, like-new and reliable VoIP IP phones and conference phones that can enhance the communication of any business without breaking the bank.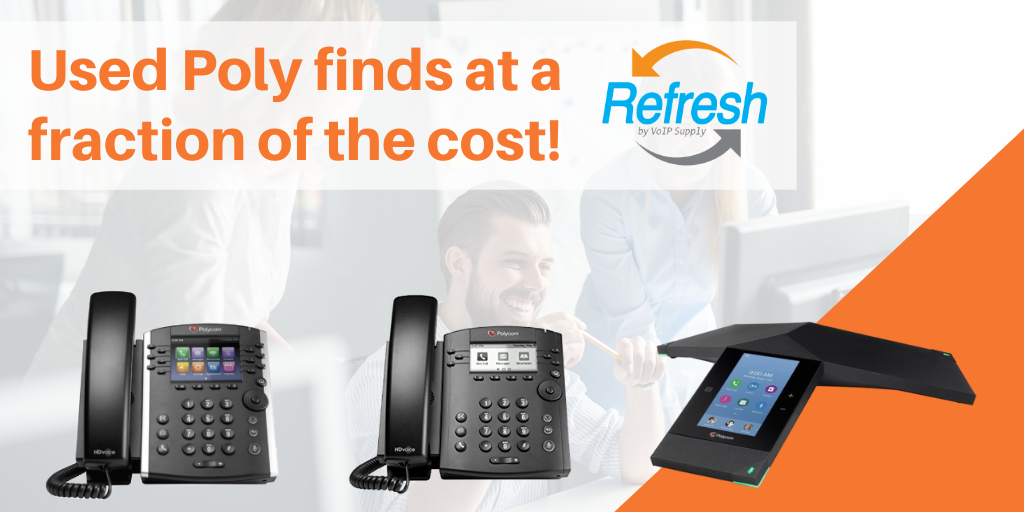 Check out the models we are featuring this month:
VVX 300 $79.99
The Polycom VVX 300 is an entry-level IP Phone that has a grayscale display and supports up to 6 SIP lines. This is a good phone for a call center employee or a cubicle worker as it provides all the features such a job would need, without all the bells and whistles of an executive level phone.
The VVX 300 has dual 10/100 RJ45 ports, built-on PoE (Power over Ethernet) and it is a business media phone, meaning that it complements workplace applications well by allowing users to view their computer applications on the phones display, such as their calendars.
Quick features:
6 Line appearances
Polycom HD Voice
208×104 Backlit 8 Level Grayscale graphical LCD
Dual 10/100 RJ45 Ports
RJ9 headset port
Built-in auto sensing IEEE 802.3 af Power over Ethernet
Optional 48V DC power supply (not included)
VVX 411 $94.99
The VVX 411 is a mid-level IP Phone with a color 3.5 LCD display that can support up to 12 SIP lines. The VVX 411 is ideal for the professional worker or the employee that handles a moderate number of calls on a daily basis.
This multimedia phone also allows for collaboration between users desktops and the phone so that productivity applications such as calendars and its reminders can come through on the phone's display.
Quick Features:
12 Line appearances
Polycom HD Voice
3.5″ (320×240) Backlit Color LCD
Dual Gigabit RJ45 Ports
RJ9 headset port
Built-in auto sensing IEEE 802.3 af Power over Ethernet
Optional 48V DC power supply (not included)
Easy integration with Unified Communication platforms
VVX Expansion Module support
4-way directional navigation key
12 hard keys with basic icon keys included
Wired or Wireless Headset Support
Poly Trio 8800 $729.99
The Poly Trio 8800 Conference Phone is an intelligence communication hub that serves to enhance communication.
It not only features HD Audio, but also helps to see and share video in high definition. The Trio 8800 has been designed with Group Collaboration in mind and is a solution for the innovative user whose job requires constant communication with others via many different devices.
Quick Features:
Conference Phone System
Built-in Wi-Fi
Microsoft® Lync™ Server 2010 Compatible
FTP/TFTP/HTTP/HTTPS Server-Based Central Provisioning
Single Line Operation
Acoustic Clarity Technology
20 Foot Microphone Range
Acoustic Echo Cancellation
Patented Polycom® NoiseBlock™
Bluetooth 4.0
5″ Color LCD Display
720 x 1280
Up To 5-Way Conferencing
Speed Dial
Call Forwarding
Call Transfer
Intuitive Navigation
One-Touch Speed Dial
Date / Time Display
NFC (Near Field Communication)
Call Waiting
Bridges IP and USB Phone Calls
Virtual Keyboard
These Poly devices are just a few of the options we are able to offer you. If you are looking for a specific model or have questions about any of the models mentioned above or Refresh as a whole, please give us a call at 1-800-398-8647 and one of our solution consultants will be able to assist you.
And if you didn't already know, take note that all Refresh models come with a 1-year no questions asked warranty. We believe in our product and its reliability and for that, are willing to stand behind it.
That is the Refresh promise!