Mom's Calling VoIP Q&A Series
VoIP Supply's business, people, products and services all revolve around maintaining and living up to our five core values:
Get Goosed (teamwork)

Go Beyond the Bottom Line (the greater good)

Mom's Calling (customer first)

Be a Very Hungry Caterpillar (embrace change)

No Donkeys! (positive family spirit)
To realize our mission, we want to introduce our  Mom's Calling Q&A blog series, highlighting the "Moms' Calling" core value. When Mom is calling for help, we all jump into action. VoIP Supply employees treat every customer like it's their mother on the other end of the phone. We show the same caring and urgency, because the customer comes first.
Here's What You Can Expect from the Mom's Calling VoIP Q&A Series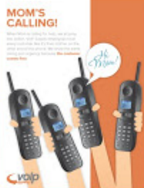 We will post a Mom's Calling VoIP Q&A blog every two weeks. In this series, we will be covering questions about VoIP devices and services we have received from real customers like you.
Customers submit questions through a technical support ticket or via the "Ask The Expert" tab on our product pages. We respond to these requests directly but more often than not, we think this Q & A would be helpful for lots of other folks. Thus, we would like to share the information with our readers and help you solve problems efficiently.  
Stay Tuned…
Follow our blog to learn and solve more VoIP questions with VoIP Supply. Thank you to our customers for the questions!