The VoIP Supply Marketing Team: Your Resource to Build and Grow Business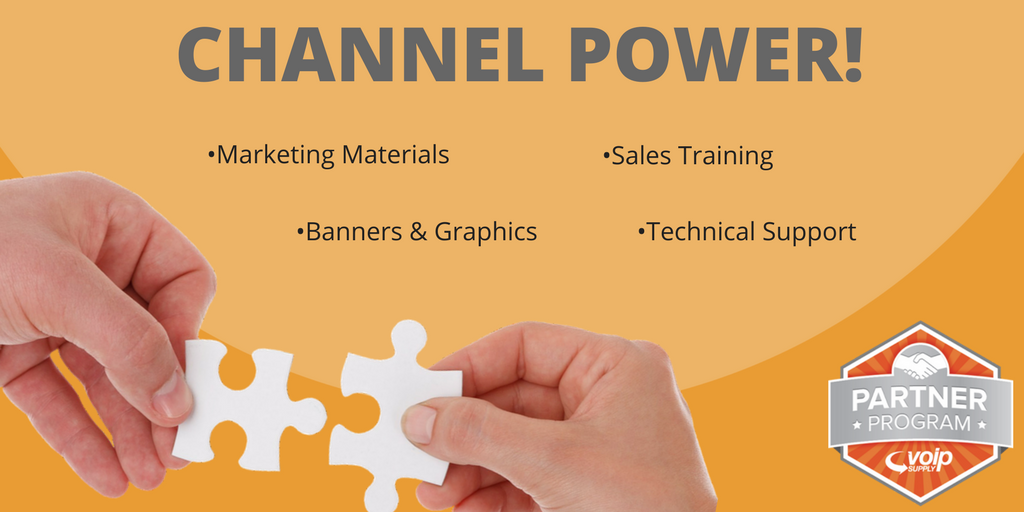 VoIP Supply's Partner Program is an efficient and effective way to grow your business exponentially. Our industry-aggressive commission and our relationships with a wide range of VoIP partners and service providers put your business in the best place to develop and grow. Nevertheless, that's just the beginning of what the VoIP Supply team can do for you!
Our marketing team acts as your extension to keep your customers engaged at all times. We are here to help you succeed regardless how small or big your business is. Don't take our word for it! See some of our popular resources here yourself!
Sales Training
We host sales training sessions with our brands almost every quarter. This is the opportunity for our partners to learn the ins and outs of VoIP product lines and VoIP service. Attending the training sessions to gear yourself is the first step to be a VoIP expert! Have a particular topic in mind that you want to learn about? Email us to suggest a topic at [email protected]!
Email
No more email headaches! From brainstorming ideas, designing templates, to sending emails to your customers, the VoIP Supply team has you covered. Our experienced team has tested and analyzed thousands of emails and we would love to share the best practices and our experience with you! Also, sign up to receive our emails to stay on top of all VoIP updates!
Blog
VoIP Insider is our blog channel where we share VoIP news, VoIP tips, VoIP hardware updates, and other useful information for both end users and resellers. You will have the chance to be our guest writer and write a piece of content to post on our site to increase your online visibility or simply let us do the writing for you to share with your customers!
Banners & Graphics
You won't need to hire a graphic designer. Let our marketing team do it for you! We customize banners/images with optional CTA buttons for you to use on your website, blog, or emails. Visit our site to see some homepage and category banners!
Marketing Materials
Love to learn about VoIP at your own pace? Want to explain complex concepts to your customers effectively? We offer the best marketing materials to help you achieve all that! Best of all, they are all FREE! Log in to check them out now:
Not a registered partner yet? Free download our buyer's guides here.
Technical Support
Use our technical support team to assist your customers! We offer pre-sales and post-sales support plus provisioning, consultations, configuration and installation help. Learn more here!
If you're a registered reseller with VoIP Supply log in to our Partner Portal to get more information of the partner assistance and resources available for you! See how to get to the page here: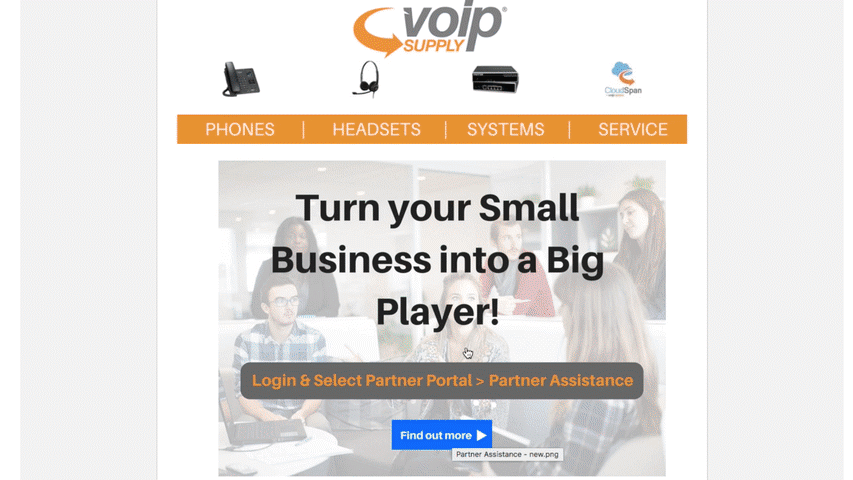 Interested in Joining our Partner Program? Request a free consultation here or simply raise your phone and give us a call at 1-866-583-8920 today!