Webinar Recap: Algo's Mass Notification Solution Application
In Algo's webinar last week, Scott and Brian gave us an overview of the Algo portfolio and new product updates. The whole presentation was filled with a lot of great information. The part I personally enjoyed the most is the real use cases where they explained how and where businesses can apply Algo's solutions. Some common use cases include:
Scheduled announcements

Emergency notification

Ring an extension

Push button

Relay input 8301
Download the presentation slides here to check out more details!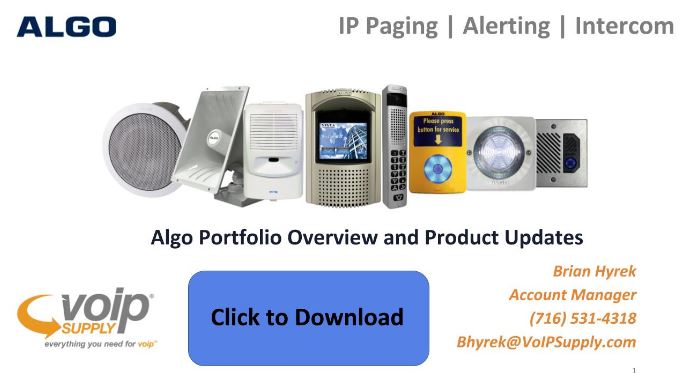 You may also find the Q&A session below useful.
Algo Webinar Q&A Session
Q: Any resources and support to help design a project from start to finish?
A: Our VoIP consultant, Brian Hyrek, is available to design your project. Scott from Algo is also available to get on a call with you if needed. Our in-house engineers can also help you with the project designing.
Q: Can Sangoma's FreePBX work with Algo's speakers?
A: Yes, Algo is compatible with Sangoma. Many of our FreePBX customers use Algo's solutions. Algo is a 3rd party SIP endpoint and open standard SIP will register. Click here to download the compatibility guide.
Q: Are Algo devices able to do two-way communication?
A: Yes. The 4 speakers mentioned all have a microphone with the speaker to enable two-way communications. The 8186 device also has a microphone for two-way communication. It's suitable for warehouses and large areas.
Q: Do all Algo endpoints need to be SIP registered?
A: No, not all speakers need to be SIP-registered. If it's a paging speaker or paging adapter, you don't need to register the endpoints. Only when you are making or answering a call, you need to have the SIP registered.
Want to learn more about Algo's mass notification solutions? Visit our webpage or contact Brian Hyrek at 716-531-4318 or email at [email protected]!