What Are the Replacement Options for The Cisco SPA112 VoIP Adapter?
As Cisco's SPA112 2-Port Phone Adapter goes End of Life (EoL), many customers are asking for a replacement option. If you are also looking for a solution, here are a few options for you!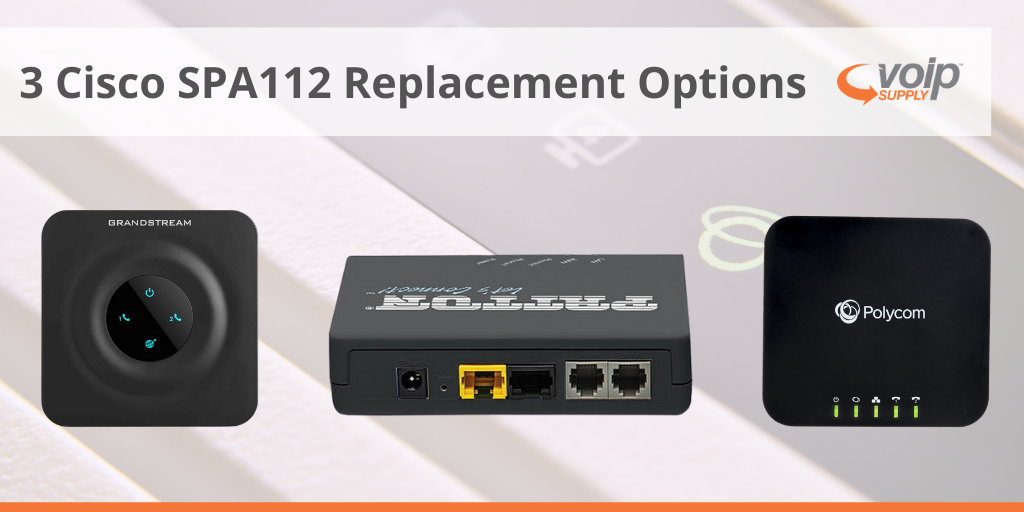 What replacement options are available for the Cisco SPA112 VoIP adapter?
1.
Grandstream HT802 VoIP Adapter
:
The HT802 is a Dual FXS Analog Telephone Adapter (ATA) designed for any residential or business setting that wants to turn their analog phone into a VoIP system. Our customers love how compact it is and the support of T.38 Fax over IP. See more features:
Two SIP profiles
Three way conferencing
Unique security certificate per device
Auto provisioning options
2.
Poly Obihai OBi302 VoIP Adapter:
The Obi302 is a 2-port Analog Telephone Adapter (ATA) that allows you to use your existing analog phones or fax machines to make calls using the internet. The OBi302 includes a built-in 2-port router with QoS and comes with the ability to work wirelessly using OBiWiFi or OBiBT.

2 Port FXS for one analog device
Support for 4 SIP accounts
Will support faxing using T.38
Includes 2 RJ45 ports with integrated QoS
3. Patton SN102 SmartNode Analog Telephone or Fax Adapter
The SN102 is another great ATA alternative to the SPA112 that allows you to make VoIP calls with legacy devices. The SN102 is secure and reliable and it comes with advanced telephony features such as 3-way conferencing, call waiting, Do not disturb (DND) support an more.
Call Waiting, Call Transfer
Call Forward as Busy forward; Non-Answer forward; unconditional forward
Do-not-disturb (DND) support
3-way conferencing