Why Do I Need Video Conferencing from Cisco?
No doubt you have read articles and seen social media posts about the video conferencing craze and why experts are saying that this is where business is going. No doubt since the cost of business travel has skyrocketed and is becoming a more and more critical business expenditure.  By adopting and using a video conferencing strategy in your business, you can save up to 50% on your annual travel costs.
How does this really affect you? Why do you need video conferencing in your business today and how hard or expensive is it going to be?  As a real business owner, we asked video conferencing expert Andria Baunee these questions.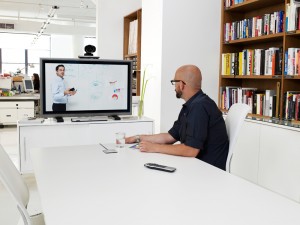 Business Owner: Why would I want video conferencing and why would I want a Cisco system? That sounds expensive?
Andria: Video conferencing is the perfect bridge between old and new. Businesses were once built on relationships. Deals were made with a gentlemen's agreement and a handshake. Today people are losing the importance of the business relationship for the sake of convenience. Video Conferencing allows you to mind the gap. No longer do you have to sacrifice personal relationships for business relationships or vice versa. This technology has allowed people in every field to bend time and space to literally be in two places at once.
Why would you want Cisco? That answer is easy. Cisco Video Conferencing equipment is well-tailored and silently sings like a toast with fine crystal. The density of the equipment proves its quality and endurance. The shape, texture, and coloration makes for a boardroom centerpiece proudly mounted as the gateway to the outside world. It is easy to use even for people who consider themselves 'non-technical." Assistance is just a phone call away.
The cost is surprisingly affordable. While once intimidating, the price tag has softened and is safely affordable for even small businesses. Cisco is not "the expensive option" any longer, even though it is still positioned at "the best" end of the comparison charts. Most companies who have deployed Cisco Video Conferencing realize a savings well within the first year!
Business Owner:  The most popular room telepresence system is called the "Cisco Quick Set C20" but, how quick and easy is it really to get hooked up and start using it?
Andria:  I have a Cisco C20 Quickset in my office and it was super simple to install. The longest part was unwrapping all the well-packed equipment. All I had to do was plug in the display, the camera, the microphone, power, internet, and turn it on. With the auto-detecting feature, the Cisco unit finds the internet and is ready to make calls in under a minute. The menu is straightforward and the dialing is easy from the remote control.
Business Owner:  I already have cameras and displays all over my office – can I use those with the C20 or do I have to buy special equipment?
Andria: You can certainly use your own displays with any video conferencing system. The cameras are a different story. Some third party cameras are proprietary and don't speak the Cisco language. If your camera is a SONY, you can definitely use it. With a feature called VICSA, you can even control the SONY camera with your C20's remote control. I have to say, though, that the Cisco camera is second to none in quality. The picture is so clear that it is like looking through an open window.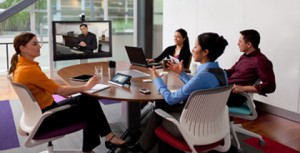 Business Owner:  How versatile is the the Cisco C20 system? Is the C20 good for video conferencing in small offices or large groups of people?
Andria: The C20 is the smallest member of the integrator family, meaning you can use it with enhanced audio visual equipment, like a Crestron system. There are four audio inputs and three audio outputs, two HDMI outputs for dual displays, and a VGA input for your computer. With two camera options, you can definitely use the C20 for a personal office up-to a large boardroom.
Business Owner:  What video communication services can I use with the C20? Is the C20 compatible with services like Skype, Facetime, or Google Hangouts?
Andria:  Cisco is a standards-based video conferencing solution. What that means is a bunch of manufacturers got together and decided on a language that they would all speak. Standards-based companies include all the major players in the business sector that you have probably heard of and do not include Skype, Facetime, Google Hangouts, or other consumer-grade video calling software. All is not lost! There are several resolutions to communicating with your customer who currently use Skype.
You can use a third-party bridging service to connect your system to Skype, like Vidtel or EasyMeeting. You can purchase a $2,000 hardware-based AV Bridge that will allow you to meet online with your video conferencing system. Or you can invite your business contacts to chat with your system using Cisco Jabber. Jabber is superior in function and quality, and ensures that your information is secure with data encryption.
The Cisco Jabber has a watered-down version that is free for use and great for one-time or infrequent communications. There is a more robust version of Cisco Jabber is available for only $29 per month.
Business Owner:  Can several different locations join in on a video call with the C20 and, do they need to have the same system on the other end?
Andria:  The Cisco C20 Quickset is a point-to-point system, meaning your office can call my office and no one else at the same time. It does not matter which video conferencing system I have on my end (even though it is Cisco) – the standards-based protocol ensures that our systems will speak the same language. If you want to have more than two sites in the same call, you would need to upgrade to a video conferencing system with a built-in bridge, purchase a hardware or software bridge, or use a cloud-based bridge like Cisco's MeetMe.
Business Owner:  How good is the video quality with the C20? What if the person I'm video conferencing has a slower system or less bandwidth?
Andria:  In the early stages of research and development, Cisco painstakingly ran tests for all kinds of scenarios. When they maxed-out their "what ifs" they arrived with a product that predicts error, self-adjusts, and compensates for the shortcomings of a bad connection. Cisco very clearly states that certain resolutions are available at specific bandwidths. There is no guessing needed. If you are considering purchasing video conferencing, be sure to run a network diagnostic analysis on your network – it is free and fast. If you find yourself on a video call with someone who has a poor connection, you can adjust the bandwidth usage in the system menu to let the C20 know to do its best with bandwidth X to ensure that you get the best possible quality.
Business Owner:  Will I be able to record video conferencing calls or share data with the Cisco C20?
Andria: Video recording is very common, especially when used for distance learning, pre-hire interviews, and remote trainings. There are a variety of way that you can record with the C20 – Cisco TelePresence Content Server, third-party recording infrastructure (in your rack), and I have even heard of people using a DVR (although this is not supported by Cisco).
Business Owner: Why should I buy a Cisco C20 (or any video conferencing system) right now? Why not next year when I have a better handle on my budget?
Andria: The number one reason you should buy now is because travel in the holiday season is outrageously expensive! With our in-stock systems and overnight shipping, you can start saving as early as tomorrow.
Let's not forget, too, our holiday special – buy a C20 Quickset and we will include a free LG LED TV with your purchase. Pair that with the potential $139,000 gift from your favorite Uncle Sam, and you could get the entire system free if you deploy in 2012 via the Section 179 tax credit.