10 Best VoIP Headsets to Improve your Softphone Call Quality
Note: This post was updated March, 2020. Click here to read the recent post!
VoIP Headsets are probably the last thing that comes to mind when talking about VoIP; however, the headset you are wearing now actually plays a more important role.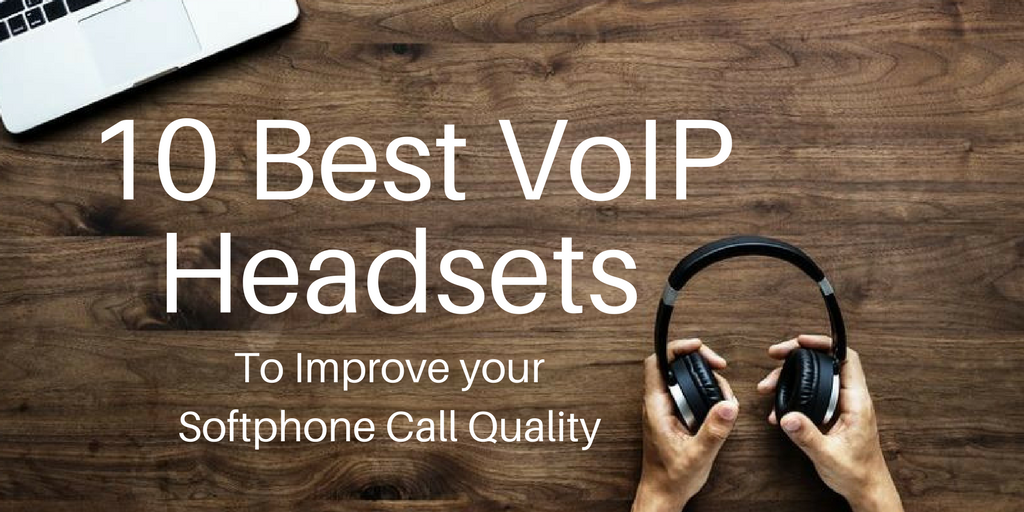 Choosing the right VoIP headset for your softphone will help you improve the phone call quality and further optimize your overall communication experience. Looking at all kinds of headsets on the market and don't know where to start? Check out these 10 best, dedicated VoIP headsets designed specifically for softphone applications!
Corded VoIP headsets for Softphones
VXI TalkPro headsets

are ideal for contact center, office, and Unified Communications environments, the VXi TalkPro headsets are equipped with the new microphone to provide even better speech recognition accuracy.
Improved noise-canceling microphone

lightweight and even more comfortable

Compatible with Windows® and Macintosh®
Jabra UC Voice 550 MS Mono

is optimized for seamless integration with Microsoft Skype for Business and Microsoft Office Communicator. It is made for light-to-medium use by desk-centric professionals who work both inside and outside the office!
Crystal clear wideband sound

Comfortable leatherette ear cushions

Flexible boom arm tip for easy microphone adjustment
ClearOne CHAT 10D

is designed for Unified Communications (UC) applications. The plug-and-play installation makes it easy to setup and get started right out of the box. The in-line call controller features call control (answer/hang-up), volume up/down, and mute with LED indicators.
Acoustic Shock Protection (ASP) prevents volume spikes or high-pitched tones

Durable, high-quality designs with modern styling

Audio compatibility with in-line volume control for Avaya, Cisco, IBM, Skype and more
Plantronics Blackwire C435

has a low profile design that's ideal for video conferencing, PC and other multimedia applications.

The ultra-discreet design and superior audio quality ensure workplace productivity and effective communications.
Durable, portable design easily tucks into travel case, ideal for professionals on-the-go

A dynamic EQ feature optimizes your voice quality

Enhanced Digital Signal Processing (DSP) provides more natural sounding voice
Jabra UC Voice 550 Mono

is designed for light-to-medium use by desk-centric professionals who occasionally work remotely and need to take the headset with them.
Crystal clear wideband sound

Adjustable speaker chambers for optimal coupling to the ear

Flexible boom arm tip for easy microphone adjustment
Wireless VoIP Headsets for Softphones
Plantronics Voyager Legend UC B235

is an advanced Bluetooth headset that ships with a USB Bluetooth dongle for use with laptops and desktop computers. It allows it to automatically answer a call when you place it on your ear and transfer between your mobile phone and VoIP headset.
Portable USB Bluetooth mini-adapter can stay in your laptop port for always-ready connectivity

Precision tuned triple-mic with enhanced DSP for superior noise cancellation

Integrated A2DP lets you listen to streaming media from your mobile phone or tablet
Jabra PRO 9470

comes with a stylish touch screen base that offers a wireless range of up to 150m. The simple SmartSetup wizard helps you connect your VoIP phones and choose preferences to get started with the PRO 9470 within a few minutes.
Touch screen base with SmartSetup wizard

Full hearing protection with Jabra SafeTone

Future-proof investment with free software upgrades via Jabra PC Suite
Sennheiser D10 USB

offers a full workday of talk time up to 12 hours and a noise-canceling microphone for all users in loud work environments. The D10 USB headset offers fast charging allowing users to regain 50% of power within only 20 minutes.
3-way Conferencing on 1 Base Station

Hearing Protection Technology to protect users

Standby Time up to 100 hours
Plantronics Savi W730

is one of the lightest DECT headsets on the market. Optimized for Unified Communications, the Savi 730 updates your status to "busy" so colleagues can see your availability. This intelligent system combines best-in-class sound quality, hands-free mobility and hours of talk time for ultimate efficiency.
One intelligent headset to manage your PC, mobile and desk phone calls

Transfer audio from headset to mobile phone with a press of a button to take mobile calls on-the-road

Energy efficient adaptive power system optimizes for range and talk time
Plantronics Savi W720 is one of the most popular VoIP headsets for softphones.

With the three-way connectivity, you are able to easily manage and switch between PC, desk phone, and mobile calls from one single wireless headset!
One intelligent headset to manage your PC, mobile and desk phone calls

Automatically routes calls to the mobile phone or headset

Transfer audio from headset to mobile – take mobile calls on-the-road
Don't see your perfect match? Call our VoIP experts at 1-800-398-8647 today, we'll be happy to find you the ideal headset that meets your specific requirements!