10 Questions to Ask Your VoIP Service Provider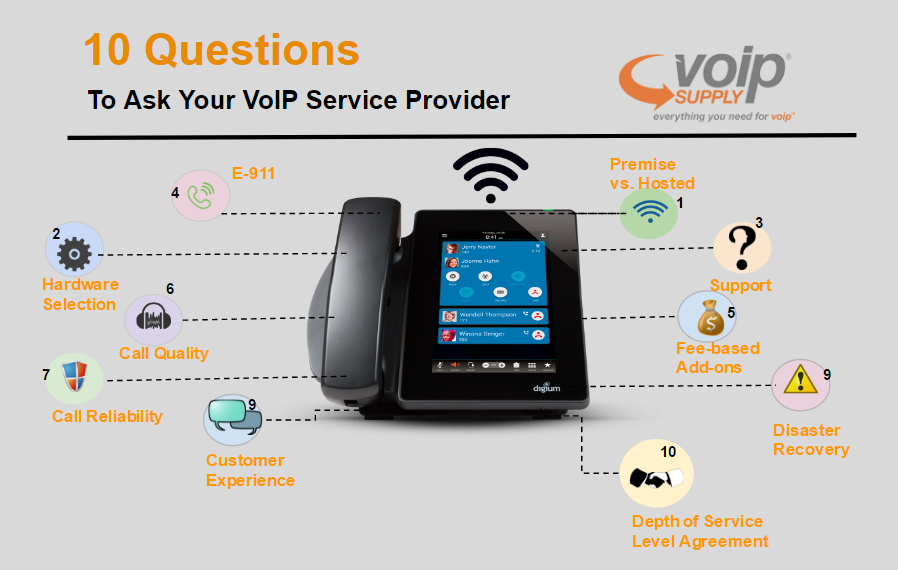 Choosing a VoIP service provider is not an easy task. To select the right VoIP service that you won't regret, you will have to answer some questions regarding your application such as calling habits, your location, your budget, and the knowledge of your technical staff. Let me share with you the 10 must-ask questions you need to know when selecting a VoIP service provider!
10 Questions to Ask Your VoIP Service Provider
#1 Are you providing a premise or hosted service?
A managed (hosted) service provider reduces your resources and responsibilities while the premise option simply provides the voice network and you administer your own network.
#2 What hardware options are available for my hosted service?
Understand what kind of devices you and your employees need and make sure your service provider has the hardware selection options you want.
#3 What kind of customer service support do you have?
Seek out the service providers comment to investment in their technology and support services. Make sure they have a convenient support channel for you to reach out.
#4 Do you support E-911 or other service features?
Consider special requirements you may have for your business and ask your Cloud service provider if they have them covered. Sometimes it's negotiable with some providers.

#5 What services are included versus fee-based add-ons?
Some services a provider offers may cost you extra fees. So be sure to ask what services are included and what are not in the contract.
#6 How is the call quality?
If you choose a hosted system, on-site devices such as Quality of Service should be avoided. Make sure you can have good call quality you expect.
#7 How reliable is the service?
Will you experience any service downtime? In what situation can that happen? If you can't have any downtime, ask if there's any backup system or other solutions.
#8 Customer experience?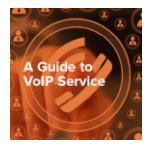 Have they ever handled any customers who face the similar situation as yours? What were their experiences? Do they have case studies? You should also search customer reviews and ask questions if anything raises concerns.
#9 Do you have disaster discovery capability?
What happens to your data, recordings, and voicemails in the event of a disaster wiping out a service provider's data center? Do they have a backup plan and will the service always be available?
#10 Depth of Service Level Agreement (SLA)?
Read the small print and ask questions if anything raise any concerns. Be aware of what happens when something goes wrong, beforehand.
Want to learn more? Check out our VoIP Service buyers guide or simply give one of our VoIP service consultants a call at 1-800-398-8647!