4 Features to Get Your Business Done with VTech's Wireless Headsets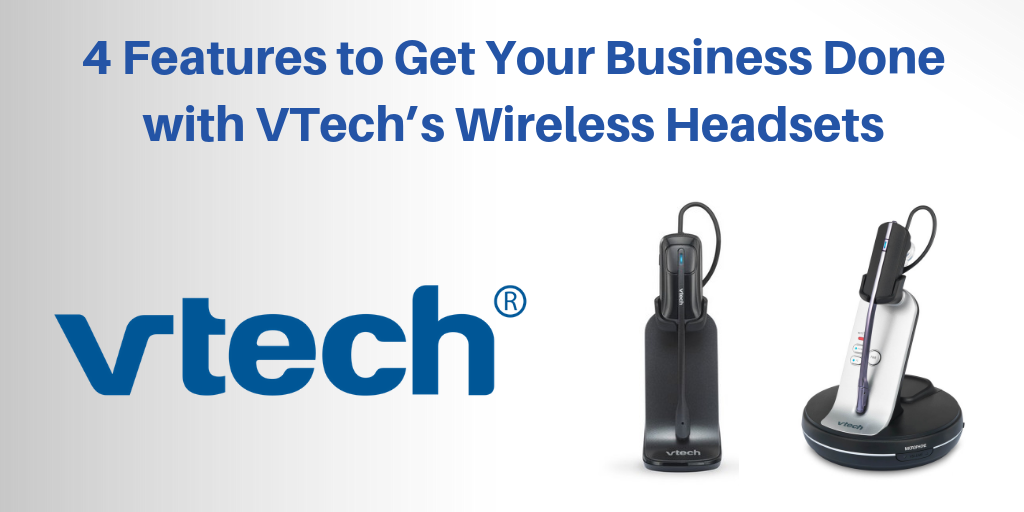 When talking about VTech telecom products, you might think of their desk phones, conference phones, or their unique hospitality line with the antibacterial features; what you might have missed is that VTech also designed a wide-band audio wireless headset series! Let me walk you through the 4 key features that VTech headsets help you get your business done efficiently:
#1 Up to 500 Feet of Range
Need to be set free from your desk? VTech's wireless headsets give you the best long-range coverage and clarity provided by a unique antenna design and advanced noise-filtering technology. No more interruptions and cut-offs!
#2 HD Voice and Wideband Audio
When it comes to communications, voice quality is the key. VTech's wireless headsets give you rich and life-like sound quality with wideband audio, providing crystal-clear communication even when you are moving around your office.
#3 Hot-Swappable Battery
If you tend to have long conversations with your clients or colleagues, you will love the hot-swapping feature! When your battery is low during long calls, just swap the cordless headset's battery mid-conversation for a new one without ending the call. Your clients won't even notice anything!
#4 Softphone Call Manager
VTech's headsets are optimized to work with major softphone services. Our customers love the free softphone call management software that gives you full integrations and remote call control right from your cordless headset!Ready to make your workspace a truly wireless environment? Visit the product page to learn more or simply contact our VoIP consultants at 1-800-398-8647 today!