5 Fanvil Hotel Phones: Affordable, Reliable and Highly Compatible
Fanvil keeps bringing greater value with high quality VoIP models and service! Fanvil's hotel phone series comes with up to 6 soft keys that can be easily programmed for housekeeping, ticketing, food & beverage and more.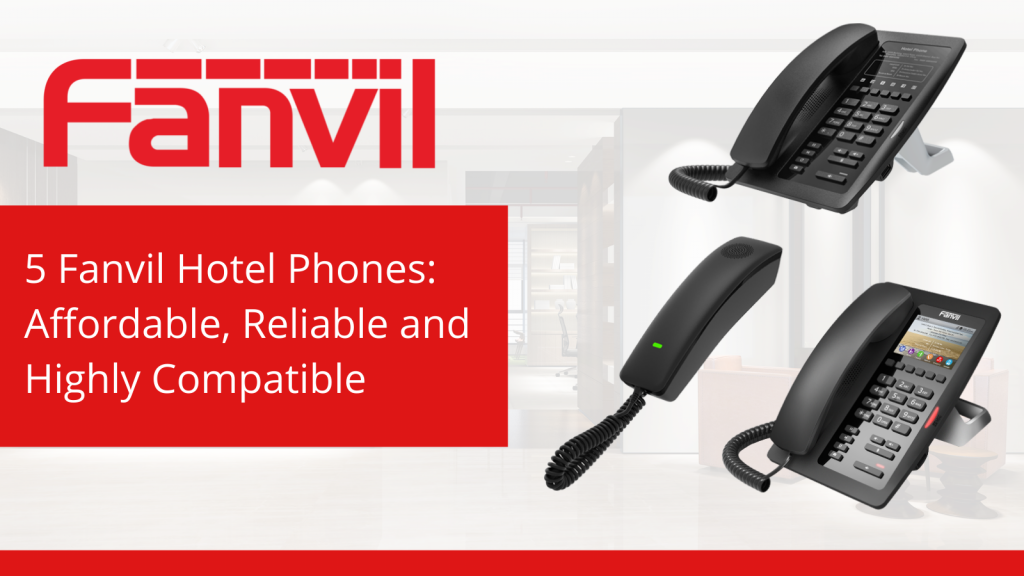 The custom faceplate options are also available on the H3 hotel phones! Contact one of our VoIP consultants today at 1-800-398-8647 to learn more details.
5 Fanvil Hotels Phones for a Wide Range of Scenarios
The Fanvil hotel series includes 5 models, let's take a look at each one:
The H2U is an affordable and reliable hotel phone. This device can serve as a hotspot and share one number from the server. When a call comes in, each extension phone will ring together. This makes it easy to answer calls from any location you may find yourself in your business!
2 SIP Lines
HD Audio with wideband Codec: G.722, Opus
10 speed dial keys, 1 programmable DSS Key
3-way Conference
2) H3 Basic Hotel Phone (Custom faceplate options available!)
If you are looking for an economical, yet reliable hotel phone with a contemporary appearance and excellent voice quality, the H3 hotel phone is your go-to solution! The Fanvil H3 has 6 programmable soft keys that can be programmed for quick extensions such as housekeeping, ticketing, food & beverage and more. Our customers love how easy to use it is and its elegant appearance.
Don't forget that you can customize your H3 hotel phone with a custom faceplate. Call one of our VoIP experts at 1-800-398-8647 today to learn more.
1 SIP Line
6 Programmable keys
1 USB Charging Port
3) H3W WiFi Hotel Phone – NEW!
The Fanvil H3W in Black is an upgraded model from the H3 model. This device comes with a built-in WiFi feature! It brings the same elegant appearance you've come to know and love from the existing H3, but with the added bonus of wireless connectivity.
2 SIP line
1 USB Port for Phone Charging
6 Programmable Keys for Speed Dial Functions
Built-in WiFi
The H5 is a high-end, 1 SIP line hotel phone which features great voice quality and easy integration with a vast selection of communications platforms. It also comes with 6 programmable soft keys for housekeeping, food & beverage and more!
1 SIP Line
Wideband codec G.722
Full-duplex acoustic echo canceller
Easy installation and configuration
Support for fast ethernet- 10/100 mbps
5) H5W WiFi Hotel Phone – NEW!
The H5W is an upgraded version of the H5 hotel phone. This model comes with 2 SIP lines and built-in WiFi to give you wireless flexibility you need! It can serve as a SIP hotspot and it features a 3.5 color display and supports H.264 video decoding.
2 SIP lines
Support PoE
Indicator Light
3.5-inch 480×320 color display
Supports Opus codec
All these hotel phones can also be used in scenarios such as schools, hospitals, supermarkets and more! Contact one of our VoIP experts at 1-800-398-8647 today to learn more!