How would you rather spend your time online if you had a health concern; searching WebMD or speaking with a real doctor through video conferencing?
MobiHealthNews writer Jonah Comstock posted an article today, Five Reasons Virtual Doctor Visits Might Be Better Than In-Person Ones, showing how video conferencing is growing in popularity for healthcare uses:
Convenient for both patient and doctor
A virtual waiting room is better than the physical one
Increased patient engagement thanks to screensharing
More convenient, automatic record-keeping
Patients feel like doctors pay better attention to them during virtual visits
Virtual Checkups Save Time, More Comfortable
Video conferencing used to be expensive but now it can easily be done via your laptop, tablet, and even smartphones.
The benefits of virtual doctor visits are the same whether you're in a rural area or if the doctor's office is down the street.  It's going to save you time and be more comfortable.
You won't have to leave work for extended periods of time, you can wait in your house instead of a waiting room, and you may find that your doctor pays more attention to you.
Telemedicine Kits and Kiosks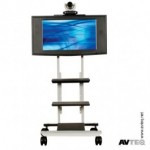 Comstock reported that health kiosks are now being developed that perform virtual visits where "a doctor can listen to a patient's heartbeat, take their blood pressure, and look in their ear with a connected otoscope, to name just a few devices."
Generally speaking, a doctors office can use something like VoIP Supply's HIPAA approved telemedicine kit and all you'll need is a strong internet connection and a good webcam.
It's the doctor's responsibility, Comstock notes, to use a video service that is "HIPAA compliant to protect patient medical information — but nonetheless virtual visits are gaining popularity as a new way to deliver healthcare."
Via MobiHealthNews