Catch Incredibly Reduced Digium IP Phones before they are all gone!

For a limited time, Digium is offering unbeatable savings on select IP Phones and here at VoIP supply, we are happy to pass on the savings.
A leader in VoIP Technologies, Digium is a trusted name when it comes to business phone systems, custom communications solutions and IP phones. Digium IP phones are the only ones in the market that allow users to take advantage of Asterisk and Switchvox. Moreover, Digium phones come prepacked with integrated applications like phone status, user presence, parking and queue metrics.
While supplies last, we will be offering Digium D70 and D50 with a competitive instant rebate. Receive $60 off the D70 and $40 off the D50 instantaneously at time of purchase. Prices have already been reduced, so there are no forms to fill out and mail, no paying ahead and waiting to get reimbursed, you simply buy and save.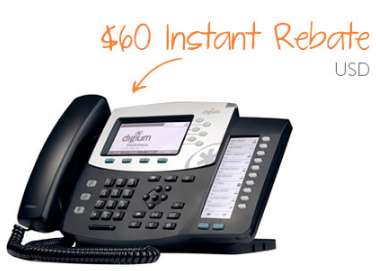 The Digium D70 is an executive level, PoE capable IP Phone that has 6-line keys and 10 digital. You can store up to 100 contacts and can also see the status of your most important contacts in real-time with the busy lamp field indicators.
The D70 is easy to deploy with plug-and-play connectivity. It provides HD Voice so that all of your conversations are clear.
The Digium D50 also supports PoE and up to 4-line keys with 10 shortcut keys. Designed for mid-level employees, the busylight indicators help you keep track of your most important contacts. The D50 also features HD Voice and plug-and-play deployment at a price that satisfies any budget.
Take advantage of this super easy Monster Savings Instant Rebate from Digium and you'll receive IP phones that are easy to set up. Simply plug the phones in, automatically locate the Asterisk or Switchvox server, pick the user and that's that, you are ready to start talking. Very simple process all the way through, because we understand time is money.