Choose a Right eSBC: Patton SmartNode Series Comparison
Are you on board and benefiting from VoIP? Greate! But do you have protections for your VoIP network? You may have heard that, like other Internet-based systems, VoIP networks are also vulnerable to IP-based attacks such as denial-of-service (DoS) attacks and identity/information theft. Luckily, with a proper security measure, you will be able to effectively block out the unwanted intruders!
Patton's SmartNode SIP Session Border Controllers enable Unified Communications for SIP-to-SIP environments and contain built-in security features and Stateful Firewall. They secure the LAN networks from fraud strikes on the Internet. Even better, Patton products come with free post-sales technical support and a 1-year warranty. All products are made in USA. Let's check out their four most popular SN selections!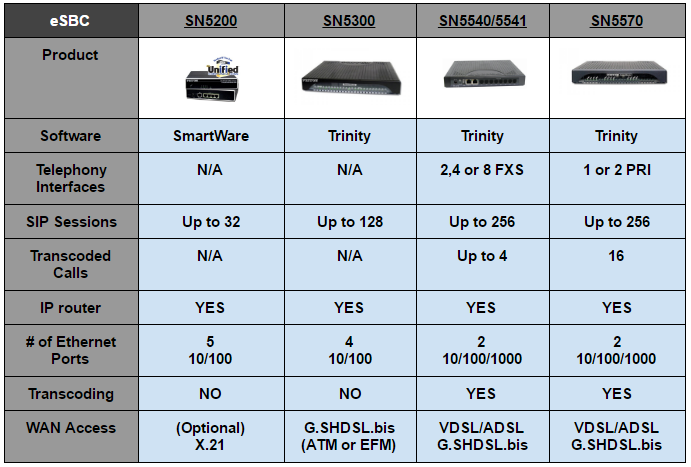 The SN5200 Enterprise Session Border Router is designed to ensure security and a high level of efficiency in the VoIP network. Connecting the Enterprise's LAN to an Internet Telephony Service Provider (ITSP), the SN5200 creates a single conduit for multimedia components including voice, video, and data. This solution also includes SIP-aware NAT and access control list ACLs for maintaining secure communications when SIP traffic crosses the Enterprise edge. See more features:
Consider the SN5300 if you are searching for a powerful solution to create a reliable VoIP and data network. This solution is a CPE-based Enterprise Session Border Router with four SIP sessions and it can be upgraded to 256 SIP sessions when needed. The SN5300 is designed to give users greater network flexibility and assist in easier deploying, troubleshooting, logging, and security. Check out more features:
If you are looking for an all-in-one solution for your VoIP system, you won't want to miss the SmartNode 5541 Series! This solution acts as a VoIP gateway, eSBC, access router and QoS CPE all in one device. It supports up to 8 simultaneous calls for a new standard in toll-bypass, remote/branch office connectivity, and enhanced All-IP carrier services. The SN5541 also undertakes network assessment and monitoring at the customer premise to prevent, reduce and resolve network issues. A truly cost-effective solution! Find more highlighted features:
As is consistent with all Patton SmartNode products, the SN5570 Series are state of the art ESBRs and also provides policy-based IP routing. This Patton ESBR accommodates 1 E1/T1/PRI, up to 30 VoIP calls or 15 SIP Sessions (SIP B2B calls). It is also upgradable, contains SIP-TLS, SRTP and can support 16 Transcoded Calls, 2x Gig Ethernet and contain an external UI power source. Learn more features:
Now, take a look at the comparison chart again to see the four products side by side!