ClueCon Telephony Developer Conference
Are you an open source Telephony developer?
Maybe you're aspiring to be one. Or perhaps you're just a marketing or business professional that is intrigued by the possibilities presented by open source Telephony.
Regardless of who you are or your level of involvement with open source Telephony, you can take your knowledge to the next level by attending this years ClueCon Telephony Developers Conference!
What is ClueCon?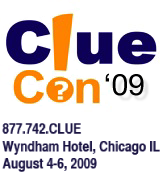 Never heard of ClueCon? Well you'll be kicking yourself for not learning about ClueCon sooner once you find out that ClueCon is an annual 3-Day Telephony User and Developer Conference bringing together the entire spectrum of Telephony from TDM circuits to VoIP and everything in between.
ClueCon presentations and sessions cover the following open source telephony platforms:
FreeSWITCH
Asterisk
Callweaver
OpenSIPS/Kamailio
Bayonne and Yate
Taking place this August 4th through the 6th at the Wyndham Hotel in Chicago, ClueCon is filled with presentations and Q&A sessions with many of the leaders in the industry including hardware engineers, programmers and project leaders. No short course or even full semester can deliver as much information and knowledge as this concentrated exposure to the front lines of Telephony.
In other words, ClueCon isn't for the faint of heart. But even still, ClueCon is great if you're looking to learn:
How to get involved in Telephony
Why and how Telephony is changing thanks to open source
Ways to create new Telephony products and services
What's new in the world of open source Telephony
How to engage with a "who's who" of Telephony
Tickets for the event are on-sale now for the low cost of $499, but are going fast.
Disclosure: VoIP Supply and the VoIP Insider think that open source Telephony rocks. We're also good friends of all open source Telephony projects and a media sponsor of ClueCon.