Come Join Us for a Lifesize Sponsored Event at VoIP Supply!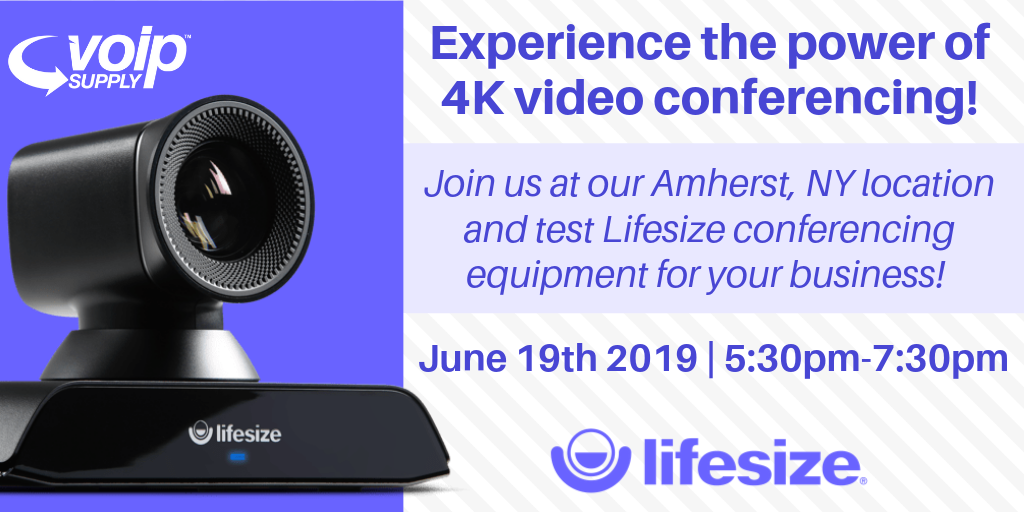 Join us Wednesday, June 19th from 5:30 PM to 7:30 PM at the VoIP Supply Office located at 80 Pineview Drive Amherst New York, 14228 near the University at Buffalo North Campus.
Come demo our Lifesize equipment in our conference rooms and see Lifesize come to life!
Maybe you need to upgrade your old legacy conferencing equipment or need a whole new solution, either way, this event is perfect for you.
Talk with our VoIP Supply Experts along with the Lifesize Team to find a tailored solution for your business. Walk away from the event with more knowledge about video conferencing and Lifesize.
Event Details:
What: Demo video conferencing equipment, grab a bite to eat, and enter to win some giveaways
When: Wednesday, June 19th, from 5:30 PM to 7:30 PM
Where: VoIP Supply Office – 80 Pineview Drive, Amherst New York, 14228.
How Much: The event is absolutely FREE and open to the public!
Click Here to RSVP on our website!
There will be food, refreshments, giveaways, and so much more. Thank you and we hope to see you there!
Why Lifesize?
Intuitive User Experience – Lifesize owns and manages the entire end-to-end user experience from built conference rooms to their cloud service
24/7/365 Support – Customer support is available 365 days a year, 7 days a week with 1-hour response times. That's amazing!
Security and Reliability – Lifesize networks are secure and encrypted without risking video quality
Want to learn more about Lifesize? Visit the Lifesize Page on our website for more information or give one of our VoIP Experts a call at 1-800-398-8647.