Coming soon! Plantronics Introduces the MDA400 QD Series
Recently, Plantronics introduced the new MDA400 QD Series with advanced call management functionality.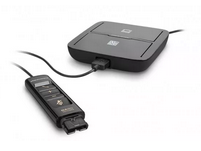 With the advanced audio processors, the Plantronics compatible headsets, and the Plantronics Manager Pro, you are able to manage your call center with analytics and insights right from desk phones and softphones.
Designed for contact center managers, the MDA400 Series highlights its flexible compatibility which allows you to connect with all major desk phones, softphones, and headsets. The MDA400 Series is also ideal for CSR agent training when used with a Y-cable, as well as a great tool for gathering data insights when used with Plantronics Manager Pro.
Key Features: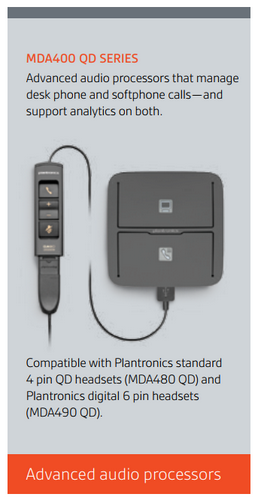 Track analytics and gain insights from both desk phones and softphones with Plantronics Manager Pro
Benefit from Plantronics software technology that detects and reports on call events, revealing insights to help make operations run more efficiently
Allows customer service representatives to take calls on desk phones or softphones
Superior noise and echo cancellation
Meets Noise at Work and G616/AAL regulatory compliance
Easy-to-use in-line call controls
Two variants are available: MDA480 QD for Plantronics standard QD headsets and MDA490 QD for Plantronics digital QD headsets
Backed by industry-leading Plantronics Customer Service
Download the datasheet
This is Plantronics first advanced audio processors to support analytics which is so important to get useful insights and improve your customer experience. The MDA400 QD Series is expected to be available for purchase soon. Stay tuned!