CopperLink PoE Ethernet Extender Changes the Digital Signage Revolution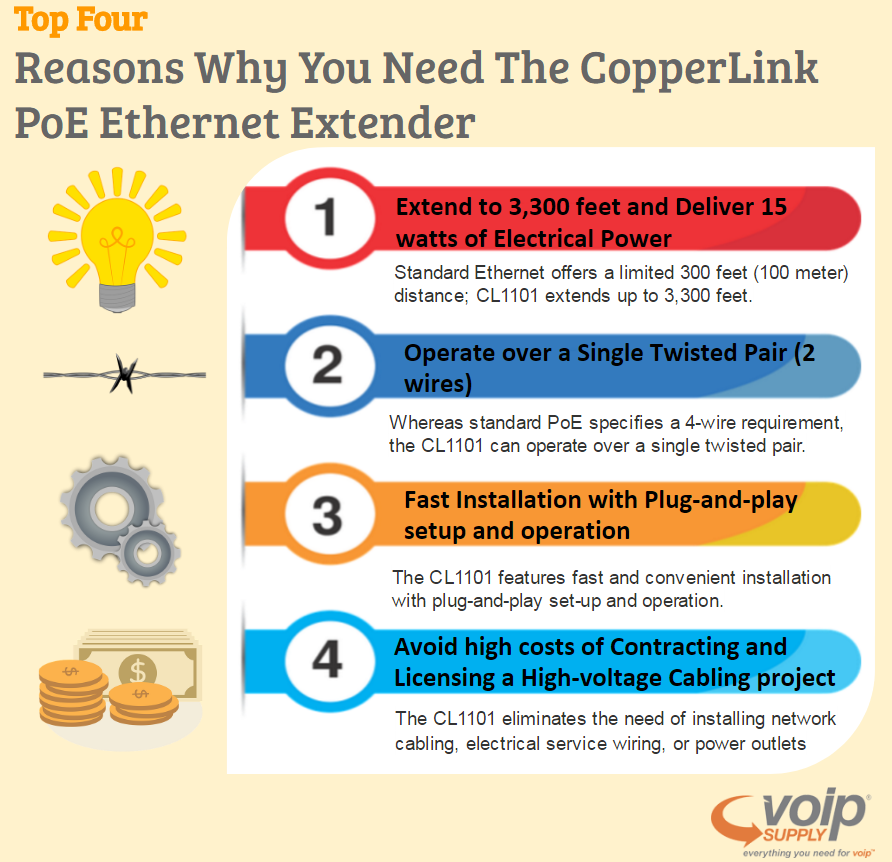 Fast-food chains typically experience a 10 to 50% boost in sales after installing digital menu boards. – According to Digital SignageToday. Among quick-service restaurants (QSRs) studied, 11% achieved payback on their investment within 6 months and another 30% within 12 months.
The use of small-screen digital displays is growing. However, implementing new digital signage comes with a few challenges. Luckily, the CopperLink PoE Ethernet Extender kits (CL 1101) from Patton Electronics has the solutions. Let's focus on the top three challenges: Cost, Distance, and Infrastructure.

Challenge One: Cost
To deliver requisite electrical power to the desired signage location, AC power construction may be required: opening walls, digging into the pavement, running the wiring, installing power connections, and then cleaning up the mess. This process can cost your business a fortune.
Solution
The CopperLink Ethernet Extender eliminates the need for construction projects to install network cabling, electrical service wiring, or power outlets. Because the Patton PoE solution leverages low-voltage copper twisted-pair wiring to deliver power to PoE screen panels, the high costs of contracting and licensing a high-voltage cabling project are entirely avoided.
Challenge Two: Distance
In many applications (notably outdoor and campus environments), the optimal position for the digital sign is located far beyond the 300 feet (100 meters) reach of standard Ethernet.
Solution
Available in commercial desktop (CL1101) and hardened-industrial (CL1101E) enclosures, Patton's PoE Ethernet Extender kits can extend Ethernet connectivity up to 3,300 feet (far beyond 330 feet limit for standard Ethernet) while delivering up 15 watts of electrical power to PoE endpoint devices – all transmitted across existing common copper phone wire.
Challenge Three: Infrastructure
Many project sites lack sufficient installed infrastructure to support IP-network communications between the display panel and the computer that manages and controls it. The same may also be true or supporting electrical wiring to and power outlets at the display screen location.
Solution
The remote unit in these kits does not require a local power source. Even so, it provides up to 15 watts of PoE power to the remotely connected digital sign (or other PoE-enabled devices).
The solution uses network bridging technology to transmit Ethernet LAN traffic transparently to all higher-layer protocols.
So do you think PoE Ethernet extender technology will be a game-changer for mass adoption of digital signage?