Today Grandstream Networks, a top name in the VoIP industry officially launched the GWN7610 Wireless Access Point.
The GWN7610 introduces Grandstream into the Wi-Fi marketplace and it also spearheads a new GWN product line from Grandstream who will be expanding with routers and access points of various deployment capabilities. Over the next year, a variety of basic, mid-range and high-end models will surface providing greater deployment flexibility.
The GWN7610 specifically can be used for multiple floor offices, commercial locations, and branch offices. It is an enterprise level AP that can be paired with any 3rd party router, but it will seamlessly pair with the upcoming GWN7000 router.
GWN7610 features high-performance 802.11ac wireless accessibility and a quality antenna that supports up to 1.75Gb per second of simultaneous throughput.
It has an extended 175-meter Wi-Fi coverage range.  Since the area covered by one AP is so great, the number of access points required decreases allowing for a cost-effective deployment.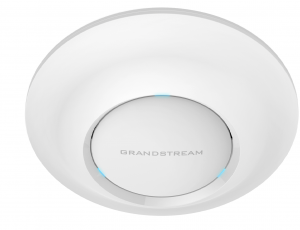 More High-End Features:

Dual-band 3×3:3 MIMO technology
Quality of Service (QoS)
Low-latency real-time applications
250+ client devices per AP
Dual Gigabit network ports with PoE/PoE+
Users of the GWN7610 can enjoy an embedded controller within the product's web user interface that makes installation a breeze with auto-discovery and auto-provisioning of the WiFi network.
This "controller-less" based network allows each access point to independently manage its own network without needing any separate hardware or software, and without a single point of failure.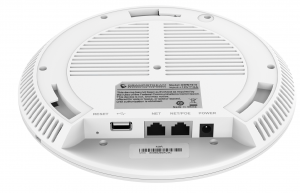 The GWN7610 AP has 1 Kensington Lock, 1 USB Port and a reset pinhole. It also has 3 tri-color LED's for device tracking and status identification.
We are excited for the new GWN7610 as a mid-range Wi-Fi AP and anticipate more great products from Grandstream.
To find out more about the GWN7610 or to chat with us for any other VoIP need, please don't hesitate to call us at 1-800-398-VoIP and our VoIP Solutions Specialists would be glad to assist.