First Look: snom 715
Due to the popular success of the 7xx Series advanced line of IP phones, snom released the newest addition in Q1 of 2014. The snom 715 is a feature rich 4-line VoIP phone designed specifically to meet the needs and provide the functionality for any small or large business deployment.
What is it?
The snom 715 is an entry-level VoIP phone with all the features you need, just dialed back to make this phone affordable to everyone. Along with handling up to 4 simultaneous calls, the snom 715 has 5 freely programmable keys, call indication with LED, HD audio, speakerphone, multiple audio device support, speed dialing, caller id, call waiting, call forwarding, 3-way conference, extension monitoring and pickup, call park, multicast paging, do not disturb mode, Client Matter Code (CMC) and is Unified Communications Ready.
As an entry-level phone, the snom 715 is low maintenance with automatic software upgrades and automatic loading of settings via HTTP/HTTPS/TFTP. With unparalleled audio quality alongside the new functionality, the 715 is guaranteed to be a real hit.
snom 715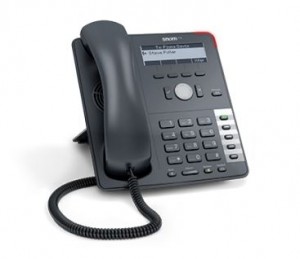 Four-line backlit B/W display
4 identities (lines)
5 freely programmable function keys with LEDs, 4 context-sensitive function keys
Wideband HD audio
Speakerphone
Power over Ethernet (PoE)
WLAN / Bluetooth Headset ready
Gigabit switch
XML Minibrowser
USB Port
Who is it for?
The snom 715 VoIP phone is going to work out pretty well for a lot of people. The snom 715 comes with an integrated Gigabit switch providing a no-lag PC connection and advanced remote management and provisioning capabilities including full support for TR-069/TR-111 make this phone an ideal endpoint for service providers of hosted VoIP deployments as well as large multi-site installations.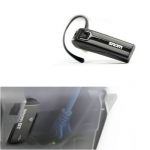 The easy use of the snom 715 is going to make it a great option for office use, shop use, and anywhere a desk is involved. 4-lines make for excellent business usage, the black/white display screen menu-driven user interface is user friendly, and offers headset compatibility with either a wired headset for a 4PAC connector or it can support a wireless headset via USB BT adapter or the snom EHS Advanced, ideal for business environments that call for employees to move about within a building.
Pricing
The MSRP pricing for the new snom 715 VoIP desktop phone is $139.00, but it will be available at VoIP Supply for the low price of $119.00
Availability
The snom 715 will be available for shipping in mid-March. Call 1.800.398.8647 to pre-order today.