First Look: TRENDnet TV-IP262P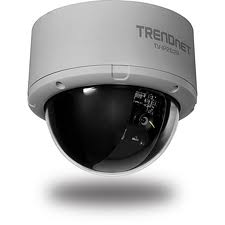 What Is It?
The TRENDnet TV-IP262P is an indoor dome, enterprise class, Megapixel IP camera that can record footage at 1280 x 1024 resolution, and transmit data in H.264 compression format. This business-class IP camera can manually be adjusted up-and-down at 70 degrees, pan side-to-side at 350 degrees, and has a tamper resistant attractive outer casing. With PoE capability, power and data can be streamed directly to the TV-IP262P allowing you to view your surveillance footage from any computer (or smart device!) with an Internet connection.
What Does it Do?
The TRENDnet TV-IP262P Megapixel internet camera is an ideal IP surveillance option for office buildings, schools and retail shops looking for that extra security measure. Streaming a smooth 1280 x 1024 resolution at up to 15 frames per second, the TV-IP262P provides clear images compressed in either H.264, MPEG-4 or MJPEG formats.
Included with the TV-IP262P is TRENDnet's own free management software SecurView Pro which gives the user the ability to customize their IP camera to their own needs. Date and time can be stamped onto the footage, you can create your own recording schedules, and sensitive areas can be concealed with overlay masks so as not to be recorded. Image snapshots can be sent to 2 email accounts, event triggers can be managed, and video storage can be defined with Samba client – a system that uses Samba services from a Samba server over the SMB protocol) support.
The TV-IP262P also has a built in SD/SDHC memory card slot for up to a 32 GB card so files can either be saved locally or backed up on a server client. The surveillance footage can be viewed over any internet connection with TRENDnet's SecurView Pro as well as their smart phone app, SecurView Pro Mobile for iPhone and Android. SecurView Pro Mobile is available for free download at the App Store and Google Play.
Who Is It For?
With easy to manage free software and simple installation, the TV-IP262P from TRENDnet is perfect for anyone looking for an affordable security solution. Schools, retail shops, restaurants, and offices of all sizes can benefit from the clear images of this indoor dome IP camera. TRENDnet's free SecurView Pro software is compatible with most Windows systems and can manage up to 32 TRENDnet internet cameras with features such as event recording, motion detection, playback, and audio recording (mic and speaker for the TV-IP262P sold separately).