Grandstream GDS3710 Protecting Businesses, Empowering Control
For businesses and residential users to who rely on surveillance in order to maintain safety and access control, Grandstream Networks' new release will definitely fill that need.
Grandstream, a key manufacturer of IP Communications has ventured into the door security market with their newest product, the GDS3710, an IP Video Door System.
Grandstream GDS3710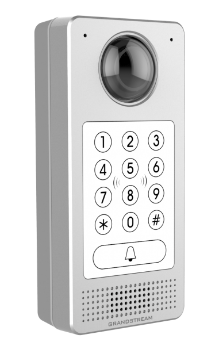 The GDS3710 is a high-definition IP surveillance camera with 180-degree video viewing angle for wall-to-wall coverage. It also acts as an IP intercom to offer facility access control and security monitoring for buildings and homes of all sizes, where protecting assets, the workplace and the people is a big factor.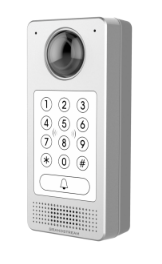 The GDS3710 has a built-in RFID (radio frequency identification) chip reader that allows keyless entry where the user is able to control, validate, and operate the entries and exits into any room. Better yet, the door station has 2-way audio with the included microphone and speaker, allowing for intercom technology that easily integrates with existing security devices.
This door phone and IP surveillance camera works great under any lighting condition with 1080p FHD video resolutions powered by its advanced Image Sensor Processor (ISP) and state-of-the-art image algorithms.
How is the GDS3710 managed? Very easily through Grandstream's GDS Manager Software. Here you can manage RFID card information, video feeds and the GDS3710 itself, making it easy to access and control all of the applications in one place. The audio and video streams can be sent directly to smartphones, SIP endpoints and the GDS Manager software.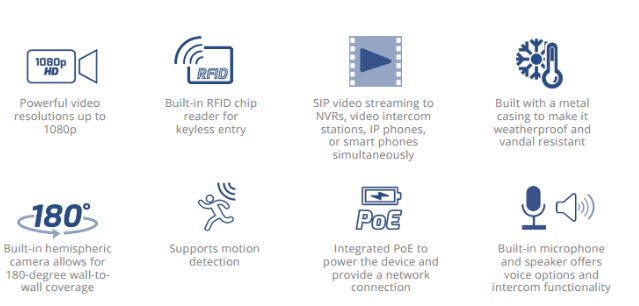 For a full access control, video intercom, and security recording solution, you can combine the GDS3710 with Grandstream's GXP2100 IP phones, GXV video phones, GS-Wave mobile app, and GVR350X NVR products.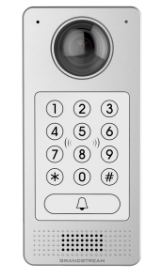 Want to learn more?