Grandstream Released GWN.Cloud Beta: A Cloud Controller for WiFi APs!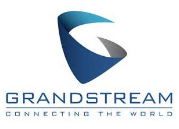 Have you used any of  Grandstream's GWN series WiFi APs? You might be qualified for Grandstream's new free beta testing for Cloud Controller for WiFi Access Points (APs), GWN.Cloud!
This new enterprise WiFi network management platform provides a secure, reliable and scalable management platform for Grandstream's GWN series of WiFi APs. Installers and users can quickly deploy WiFi networks within seconds of scanning the device's barcode and manage them easily through a mobile app or a web browser.
Check out some key features:
High reliability – 99.99% uptime
Virtually unlimited scalability with no restriction on the number of sites or WiFi APs being managed

Industry-leading end-to-end security with bank-grade TLS encryption and X.509 certificate authentication, coupled with the strong security features

Built-in Captive Portals with customizable landing pages for collection of access credential information

Real-time network monitoring and control tools, configurable alerts, and in-depth reports by network, AP, client and more

GWN.Cloud mobile app, available for iOS™ and Android™

GWN.Cloud service is free
Apply for this beta test at https://www.gwn.cloud/
Also, join our GWN Series webinar on Feb. 27th to learn all you need to know about the GWN Series of Networking Solutions. Click here to register now!