How to Choose the Right Grandstream IP Phones
Looking for the whole lists of IP phones from Grandstream? We've got you covered! Follow this article to learn all the features and functions of Grandstream's IP phones and the best workplace environments for each of their models. You will find the three main series: The GXP1600 series basic IP phones, the GXP1700 series mid-range IP phones, and the GXP2100 high-end IP phones.
The GXP1600 Series Basic IP Phones
Designed for small businesses who don't require advanced features, the GXP1600 series are simple, easy-to-use IP phones that satisfy your basic needs of VoIP. The GXP1600 series comes with 3-way conferencing and easy no touch provisioning with other Grandstream products.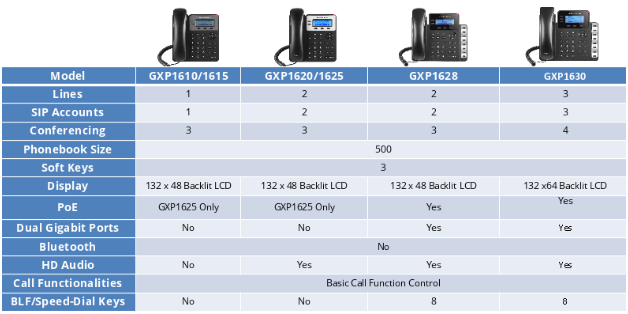 The GXP1610/1615 is a single line VoIP phone with a 132×48 pixel LCD display and 3-way conferencing. With up to 2 call appearances while handling a single SIP account, the GXP1610/1615 offers high-end phone features that can be depended on in various office settings.
The GXP1620/1625 is a 2-line IP phone with a 132×48 pixel backlit graphical LCD display. Offering 3 XML programmable soft keys and multi-language support, this solution gives you the flexibility you desire.
If you are looking for a basic solution that can be interoperable with most third-party SIP device, the GXP1628 would be your go-to solution. It is a 2-line IP phone with 3  XML programmable keys and dual network ports that offers you HD wideband audio, full duplex speakerphone, and more features.
The GXP1630 is the latest member of the 1600 series that's equipped with 8BLF keys and 4-way conferencing abilities. Integrated PoE, 3XML keys, dual switched Gigabit ports are just some of the useful features our customers love.
The GXP1700 Series Mid-Range IP Phones
The GXP1700 series features high-end, modern design, mid-range capacity at a near entry-level price. With up to 8 lines and 4 SIP accounts, this series offers 5-way conferencing, 4 soft keys and integrated PoE, USB port, and EHS support. The 24 to 32 digitally programmable keys and the advanced call productivity, efficiency, and high-volume control give users the flexibility they need to grow their businesses.

The GXP2100 Series High-End IP Phones
The GXP2100 series IP phones are tailored to businesses who are looking for more advanced features to maximize the work productivity and efficiency. Offering up to 12 lines, 6 SIP accounts, and 48 virtual BLF keys, the GXP2100 series highlights its suite of advanced call handling features that maximize your work functionality. See the chart below for a detailed comparison of this series: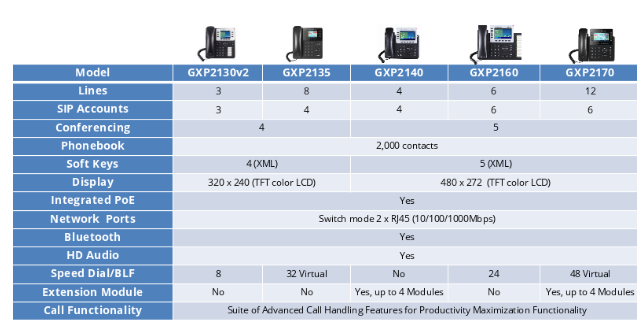 Fill out the form below to download the full resource guide:
What IP phones are you using? Did you make the right choice? Share with us!