How to choose which Yealink BH71 Bluetooth Headset is best for you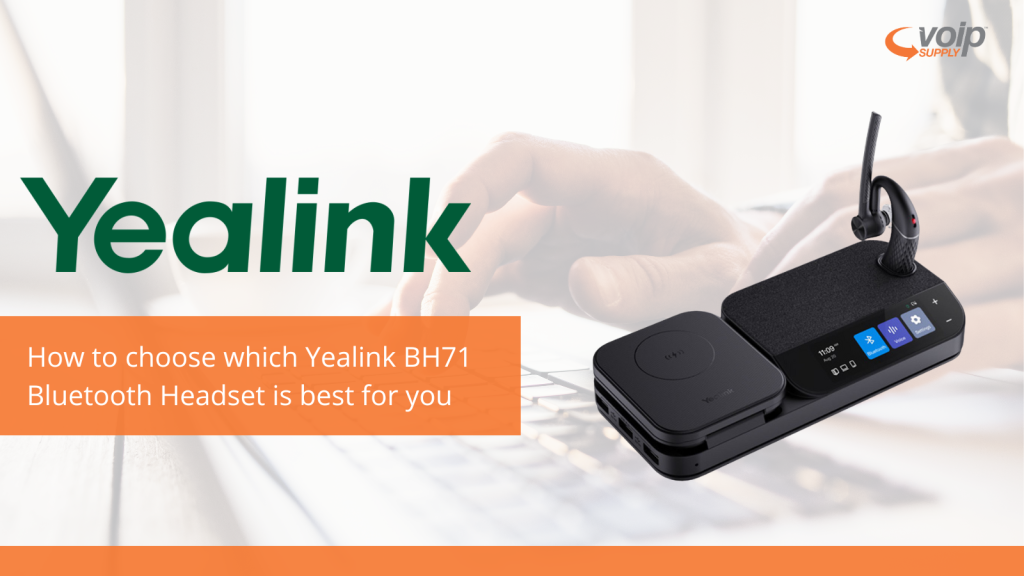 Yealink, a leader in IP Telephony for the SIP market, has introduced its newest headset, the BH71 Mono Bluetooth Wireless Business Headset.
The Yealink BH71 Mono Bluetooth Wireless Business Headset is a small and portable mono over-the-ear earpiece headset with an adjustable ear hook and 4-mic beamforming noise cancellation technology that provides high-definition audio quality no matter if you are in a car, on the train, in the office, or whether you are connected to your smartphone, desk phone or PC.
Yealink offers four different models of the BH71 Headset: the Yealink BH71 Headset, the Yealink BH71 Headset Pro, the Yealink BH71 Headset Workstation, and the Yealink BH71 Headset Workstation Pro.
How do you choose which headset is the best fit for you from this innovative multiform headset portfolio?
Each model included has the same over-the-ear earpiece and microphone combination and can be worn on either ear. Each model comes with additional accessories that enhance the use of the headset.
Yealink BH71 Headset:
Designed for On-the-go workers
4-mic array beamforming noise-cancellation
Adjustable ear hook for comfortable wearing
10-hour talk time
Carrying case
Yealink BH71 Pro Headset:
Designed for Hybrid workers
Bluetooth USB dongle to connect to devices that don't have native Bluetooth support
Carrying case with a built-in battery that can recharge the earpiece on the go, extending its already long 10-hour talk time by 20 hours
Yealink BH71 Workstation Headset:
Designed for Office workers
Includes an all-in-one station that can connect to a desk phone, PC, and smartphone simultaneously
The workstation has a 3" touchscreen from which you can manage your calls
Built-in speakerphone that allows you to add others around you to the conversation
Yealink BH71 Workstation Pro Headset:
Designed for High-end Hybrid workers
Includes all the accessories of the BH71 Workstation model
Includes the Bluetooth USB dongle
Charging case of the BH71 Pro model
Visit our website to learn more about these Yeahlink BH71 headsets and give our VoIP experts a call at 1-800-398-8647. We will be happy to help you find the right solution.
Have you used any of Yealink BH71 headsets and have thoughts on these models you'd like to share? Please leave a comment below.