How to configure the Grandstream GAC2570 Conference Phone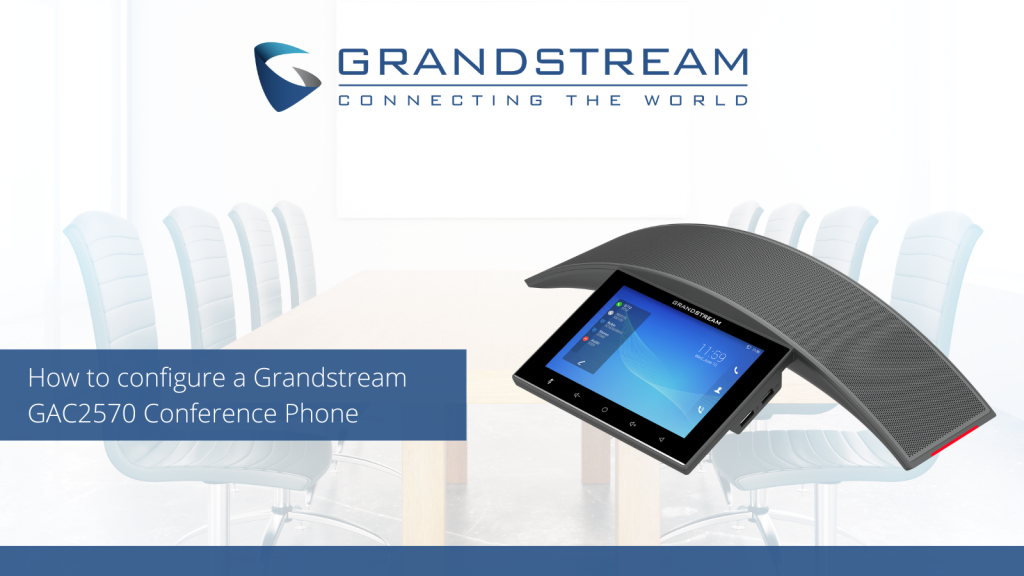 The Grandstream GAC2570 Conference Phone is a full-duplex conferencing device featuring high-quality voice communication for meeting rooms, huddle areas, boardrooms, and other conferencing spaces. This conference phone features an exceptional speaker with MMAD (Multichannel Microphone Array Design) and a 7" 1280×800 IPS touchscreen LCD with conferencing support for up to 12 attendees.
You can configure the Grandstream GAC2570 Conference Phone in two ways: Web Browser or Touch Screen. Here are the simple steps:
Via Web Browser*
From the main menu, slide to the "Settings" screen.
Access "Settings" app ►Status ► Network status ► IPv4 address".
Type in the IP address in your PC browser.
Enter username and password to log in. (The default administrator username is "admin" and the default random password can be found at the sticker on the GAC2570).
*Note: The computer must be on the same LAN as the GAC2570.
Via Touch Screen
On the main menu, click "Click to add accounts" to configure SIP account.
Access "Settings App" for advanced configuration.
Please note, per Grandstream: The GAC2570 is not pre-configured to support or carry emergency calls to any type of hospital, law enforcement agency, medical care unit ("Emergency Service(s)") or any other kind of Emergency Service. You must make additional arrangements to access Emergency Services. It is Your responsibility to purchase SIP-compliant Internet telephone service, properly configure the GAC2570 to use that service, and periodically test Your configuration to confirm that it works as You expect. If You don't do so, it is Your responsibility to purchase traditional wireless or landline telephone services to access Emergency Services.
There you go! You are ready to configure your conference phone. Share your experience with us with a comment below!