How to connect to Wi-Fi on the LINKVIL by Fanvil W611W Portable Wi-Fi Phone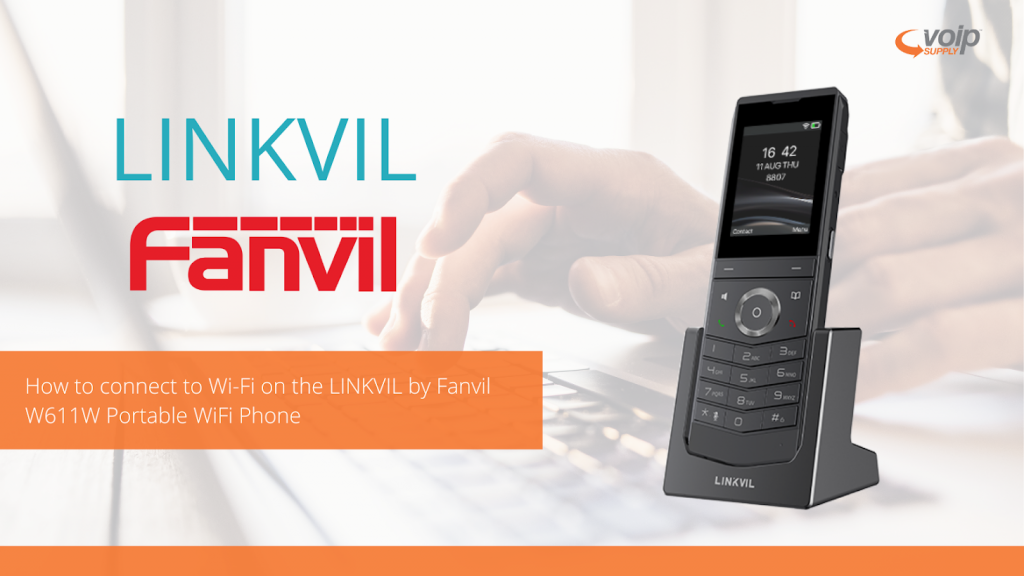 Wi-Fi phones are telecom devices that are equipped with the capability to connect to the internet through a WiFi network. When using these devices, you are able to make phone calls and receive and/or send messages through a WiFi connection.
Wi-Fi calling is a voice service that lets users place and receive calls over the Internet through WLAN (wireless local access network), as opposed to using a cellular signal, so it doesn't need to rely on the network of cell towers.
Fanvil, a leading global audio and video VoIP device provider, recently announced the launch of a new sub-brand LINKVIL to produce wireless unified communication products. With Wi-Fi phones becoming more popular, Fanvil has recently released a phone specifically designed for the wireless communication needs of a mobile office, the LINKVIL by Fanvil W611W Portable Wi-Fi Phone.
The LINKVIL by Fanvil W611W Portable Wi-Fi Phone is a portable, elegant Wi-Fi phone that is light and portable, suitable for one-hand holding, and can be used for mobile offices anytime and anywhere. The W611W has built-in dual-band 2.4G & 5G Wi-Fi, supports the latest WiFi6 protocol, supports fast roaming, and is widely used in various wireless network environments.
Users can connect to Wi-Fi through either the device or the web.
Connecting through the Device Side:
Enter [Menu] >> [Settings] >> [Wireless Network], and enable the wireless network.
Select an available network and click to enter.
Select the corresponding Wi-Fi network from the Wi-Fi list, click Connect, and enter the password.
After clicking OK, the Wi-Fi connection is successful, and the corresponding Wi-Fi display will show "√"
When the network is not connected, there are several ways to connect to the Wi-Fi:
Wi-Fi Open Unconnected- -> Wi-Fi Off: prompt "Network Disconnect"
Cancel: Return to standby
OK: Go to the Wi-Fi Settings
Wi-Fi open connected- -> Wi-Fi connection disconnected: prompt "IP acquisition failed"
Cancel: Return to standby
OK: Go to the State-Network
Wi-Fi Open connected- -> Wi-Fi Off: two prompts, first "Network Disconnect" before "IPacquisitionfailure"
Cancel: Return to standby
OK: Refto both above
Connecting through the Web Side:
Log in to the device web page, and go to [Network] >> [Wi-Fi Settings]. Select to enable Wi-Fi, and configure the corresponding SSID, username, and password.
And that's it. You are now connected to Wi-Fi!
Visit our webpage to learn more about LINKVIL by Fanvil or simply give our VoIP experts a call at 1-800-398-8647!
Did you connect to Wi-Fi on your LINKVIL by Fanvil W611W Portable Wi-Fi Phone and are ready to share? Please leave a comment below.