How to Extend Connection to A Remote Site
Our tech support team at VoIP Supply offers great pre and post-sales support plus provisioning, consultations, configuration, and installation help.
We get a lot of VoIP hardware and software questions and would like to share the solutions with everyone. Here is a new real question and answer from VoIP users like you.
HOW TO EXTEND CONNECTION TO A REMOTE SITE

Q: I have a remote site that has a network but is not connected to the internet. The site is an island 12 miles from shore. I have a wireless network that connects the remote island to shore. What I need is something that I can extend a POTS telephone line across the wireless network to the island, as we have need for telephone out there. We do not have access to the internet. Is it possible to build a system that can do this?
A: We can extend that connection with two Grandstream ATAs and Peer to Peer HandyTone Scenario (Extend Analog Lines Using the HandyTone 503 without SIP Server).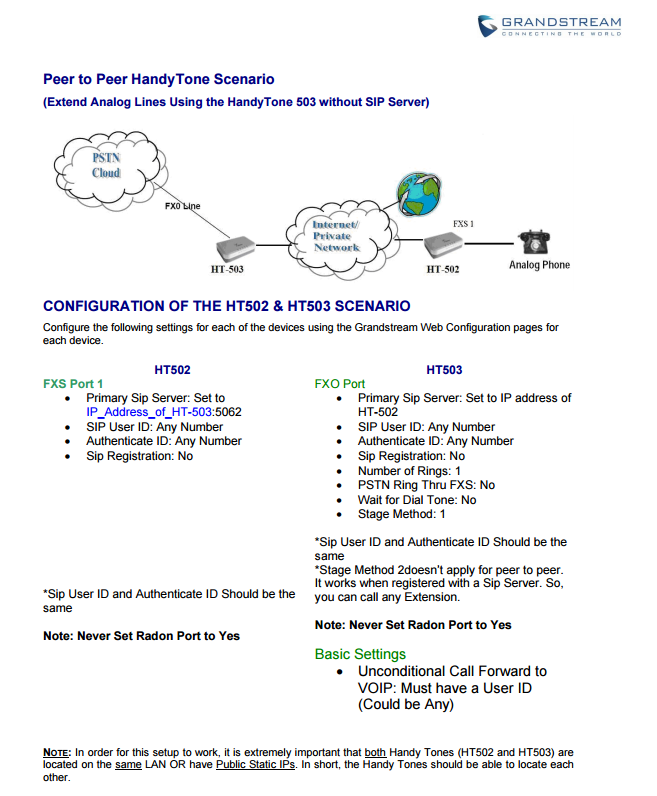 Grandstream HT502 ATA
The Grandstream HT502 is based on the SIP 2.0 standard and features 2 FXS ports, dual 10M/100Mbps Ethernet ports with integrated high performance NAT router, port status and message waiting LED, and a base stand for vertical positioning. Learn more here.
Grandstream HT503
Grandstream HT503 is a hybrid Analog Telephone Adapter and VoIP Router featuring both an FXS (analog telephone) port and an FXO (PSTN) Port so you can have backup lifeline support using the PSTN in the case of a power outage. It also integrates 2 10/100 RJ45 ports with an integrated high performance NAT router. Learn more here.