Multicast Zoning vs Legacy Channels: What are the Key Differences?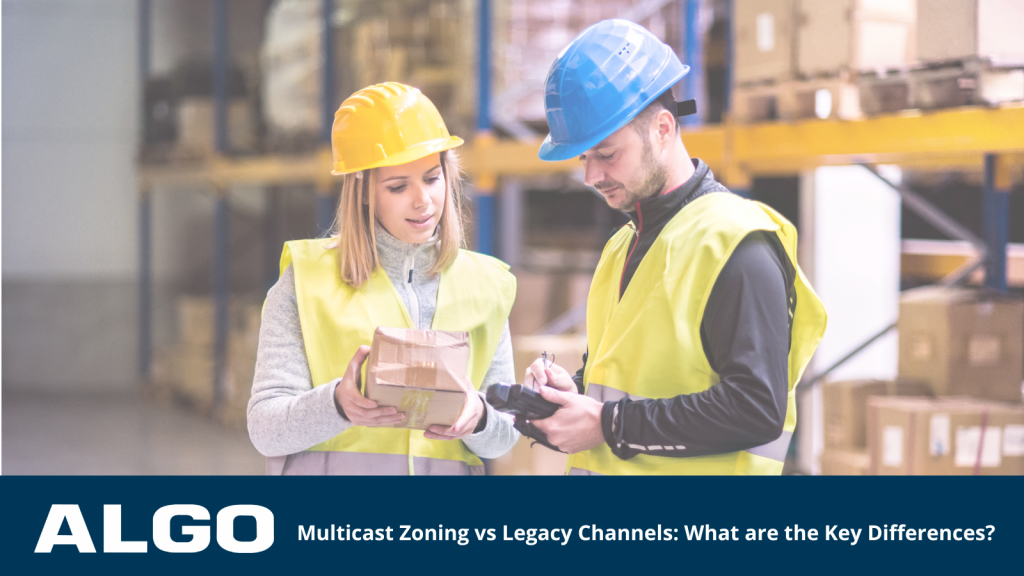 Organizations often need to segment speakers into groups, which are often referred to as zones. However, referring to both analog zone controllers as zones or multicast groupings as zones can cause confusion.
To help you clarify the concepts, we will discuss the key differences between multicast zoning and legacy channels in this article. Let's check them out:
Speaker Grouping in IP Environments: Multicast Zones
The multicast functionality allows a sender to push a message to the network for specific multicast zones. The multicast receivers are configured to listen to broadcasts for any of their pre-configured zones, and automatically play messages that coordinate to that respective zone.
Algo's 8301 Paging Adapter is a great device to use as the multicast sender for large deployments. Check out a typical set up below:
As self-amplified devices with multicast capability, this allows organizations to group IP speakers independent of an amplifier.
Speaker Grouping in Legacy Environments: Legacy Channels
On the other hand, in legacy paging systems, speaker groups are often created with the assistance of zone controllers and zone amplifiers. Therefore, legacy zoning typically occurs behind the amplifier.
Since these legacy systems are not network-based, the groups are determined by the wiring configuration, Algo refers to the speaker grouping as channels.
Can legacy systems grouped behind an amplifier be integrated into an IP system? Absolutely! That's where Algo's 8373 IP Zone Paging Adapter comes into play. As a SIP endpoint, the 8373 will register to the IP system seamlessly while forming a bridge to the legacy amplifier and speaker groupings. See an example below:
Do I have to choose one or the other? A third option is to go hybrid! You can do a combination of both using multicast zones and legacy channels.
Here are the reasons to create a hybrid environment:
You can retain your legacy equipment for part of your environment and deploying new IP equipment for other areas needed
You will have the ability to group speakers with multiple combinations of zones and/or channels
One popular option is to choose to deploy the 8373 IP Zone Paging Adapter to retain legacy grouping via channels as well as register the 8373 device as a multicast sender or receiver.