New at VoIP Supply: Elastix Appliances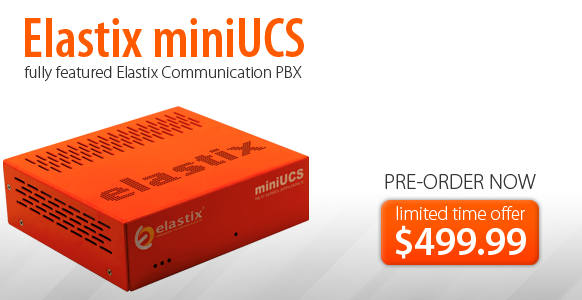 Elastix Appliances Are Coming Soon!
No more worrying about building servers, loading operating systems, Elastix or installing PSTN connectivity cards!
Take a sneak peek at the first in a line of Elastix Appliances set to hit the VoIP Supply shelves in the next two months! For the first time ever, you can get your hands on officially licensed and supported Elastix Appliance in North America.
The Elastix MiniUCS is a complete unified communications system in one small package. Weighing under 2 lbs, the MiniUCS will support up to 50 SIP endpoints and up to 32 concurrent calls.
The Elastix MiniUCS can be used in SIP only environments or can be configured with an optional 4 FXO or FXS ports for analog connectivity.
The MiniUCS is due to hit the shelves in just a few weeks, so pre-orders yours today! The $499 price won't be available after mid-September!