New Switchvox Chat App for Mobile, Microsoft Teams Integration, and Switchvox 7.5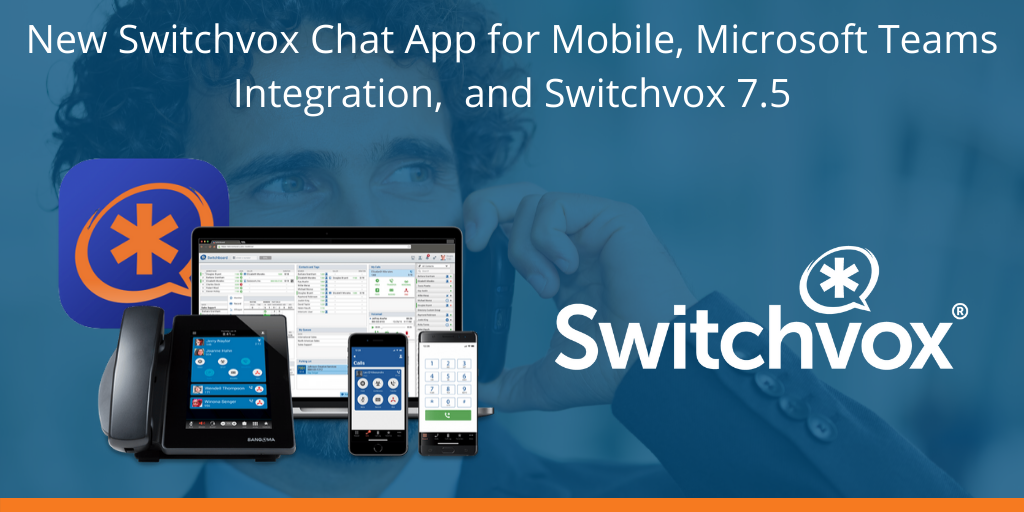 Sangoma is very excited to announce a new chat app for mobile, Microsoft Teams integration, and the upcoming release of Switchvox 7.5.
The New Switchvox Chat App for Mobile – Available Now!
Mobile users can now exchange messages with each other and with Desktop Softphone users. This new application improves workplace collaboration allowing users to communicate better, regardless of where their office is.
This new mobile app currently supports iOS devices only and an Android version is coming soon. This app will also support SMS messaging soon, using Switchvox SMS DIDs as delivered by Sangoma's SIPStation SIP Trunking service. Download the Switchvox Chat app here today.
New Switchvox for Microsoft Teams – Available Now!
Switchvox users are now able to seamlessly initiate calls on their Switchvox phone from within Microsoft Teams. You will be able to dial with the Siwtchvox Desktop Softphone for Windows or macOS when working remotely.
Switchvox 7.5 is Coming Soon!
Switchvox 7.5 adds video calling and screen-sharing features to the Desktop Softphone, enhancing your team productivity and collaboration. Users will be able to engage in one on one video calls and switch between video and screen-sharing with one click of a button.
Switchvox 7.5 will be available in limited production soon. To request access, open a support case in the Online Support Portal and include your registration code. Please note that an active support subscription is required to upgrade to Switchvox 7.5.