Patton's Ethernet Extender Enables Year-Round Photography in Any Weather Conditions
Are you curious about how Patton's Ethernet extender works for real customers? Let's take a look at a case study from a Canada-based energy delivery company who was searching for a solution to help them capture time-lapsed photography of construction site projects located in the far north.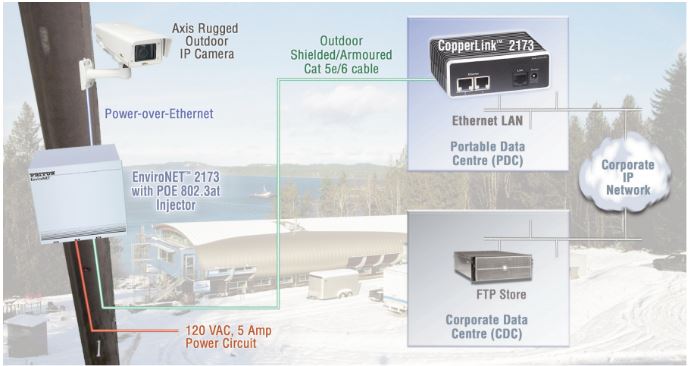 The Challenges: Harsh Weather and Limited Network Distance
The construction sites are located in the harsh climate with temperatures in the sun ranging from -40 Celsius or lower up to +40 Celsius during certain seasons. The temperatures often vary by as much as 30 degrees or more during short time spans.  
Also, the project sites include numerous fixed and portable buildings in a large area. The portable data centers (PDCs) that provide communication services to site construction teams can't always be set up in the ideal locations, therefore, the distance between an IP camera and the PDCs usually exceeds 100-meter standard distance limitation for an Ethernet segment.
Solution
To address these requirements, Patton created a customized solution using the EHA2173/R/CC/UI and Patton's NEMA4-compliant EnviroNET™ rugged-industrial enclosure with the CopperLink™ Ethernet extender. This solution includes four elements:
Outdoor Extender—Patton EnviroNET™ 2173 NEMA 4-compliant Rugged Outdoor Ethernet Extender, modified to support high power-over-Ethernet standard 802.3at  

Indoor Extender—Patton CopperLink 2173 extends 10/100Base-TX Ethernet up to 245 meters (800 feet) at 50 Mbps. *Note:

The CL2173 has been replaced by CL1212

.

Cable—Cat 5e/6 cable armored and shielded from extender to extender

Camera—Axis Rugged Outdoor 5- megapixel IP camera with heater & fan
"Patton adapted their existing EnviroNET™ solution to suit our needs. Now, using Patton's rugged power-over Ethernet extender, we can provide year-round, time-lapsed photography in any weather conditions" – Canada-based energy-delivery company
Are you using Patton's Ethernet extenders? How does it solve your project challenges? Use the comment below to share with us!