VoIP Q&A: Plantronics Convertible Headsets, Polycom Message Indicator Light, Switching and Intercom from Analog to VoIP
Our tech support team here at VoIP Supply offers great pre- and post-sale support plus provisioning, consultations, and configuration and installation help.
We get a lot of VoIP hardware and software questions and realized that these solutions should be shared with everyone.
Here now are our top three (real) questions and answers from this past week (from VoIP users just like you).

Q: My company has approved the purchase of the Plantronics HW251N but they won't approve the "Bluetooth" style.
I was wondering if this headset comes apart (so to speak) and if you offered a conversion kit? I don't know if I am going to like that band going across my head for 8 hours a day.
A: The Plantronics HW251N is a single ear, over-the-head wearing style headset.
And when it comes to wearing styles, everyone's got a preference – You should see how many different headsets are in use in the VoIP Supply office.
Unfortunately the HW251N does not have a conversion kit.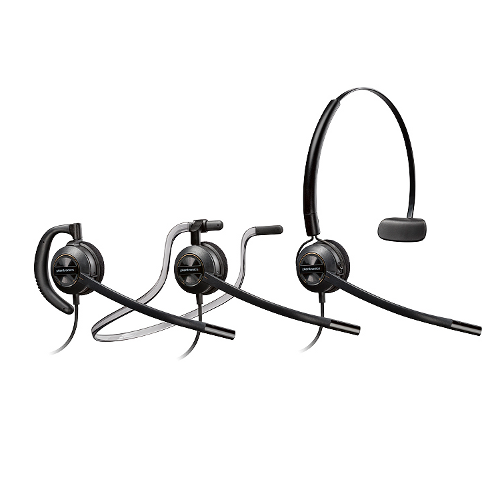 You should try to get your company to spring for the Plantronics EncorePro HW540, a convertible headset which offers three different wearing styles.

Q: Can the message indicator light on the Polycom VVX 500 be turned off when there are no messages and the phone enters into power saving mode?
A: It's reasonable to assume that the message waiting indicator (MWI) should only illuminate when there is a message.
However, on the VVX 500, the MWI illumination persists even though no message exists because it is on by default when the phone goes into power saving mode.
Polycom's reason for that is so that you know that the phone still has power even though the screen is asleep.
There's no menu option to disable this feature in that power saving mode – it must be done via config file.
Add the following line to the code in the config file to turn this off:
ind.pattern.powerSaving.step.1.state.VVX500="0″

Q: My condo complex just purchased two Grandstream HT701 boxes and two SIP trunks from VoIP Supply so we can use our intercom systems over VoIP instead of AT&T copper wire.
The installation guy was just here and thinks that all four of the analog wires that go into the analog ports on the HT701's need to be connected. Currently only two wires for each intercom system are connected.
What is your feedback on this? Do you agree or not?
A: If you're talking about the actual copper wire pair(s) that gets crimped into the connector end then technically, you're both right.
Analog lines can certainly work with just the single pair, and that is actually how most are punched down. However, some devices require two pair depending on various features.
If it works with the two pair, then I'd leave it at that. I don't know enough about your intercom systems to accurately say you can get by with just the single pair. The second pair could be to carry the charge that opens the door.
That's all for this week, stay tuned for next week's VoIP Q & A.