Poly Studio: Premium USB Video Built for Small Rooms and Big Ideas (Webinar Recap)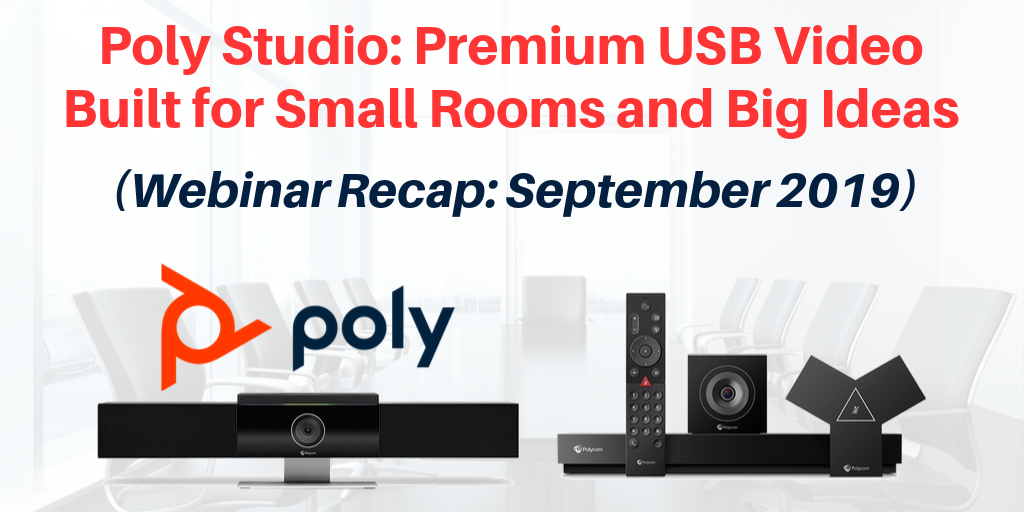 Poly Studio has drawn a lot of attention since its release! Our Poly webinar yesterday was loaded with good information regarding how you can utilize Poly Studio to accomplish more as a team. Key highlights include:
Simple USB Connectivity

4K Video & HD Speakers

120-degree Field of Vision

Auto Framing & 5x Zoom

Poly Legendary HD Audio

Acoustic Fence & Noise Block

Centralized Management

More Features
Additionally, Pierre also touched on some exciting new Poly innovations including:
The VVX D230 dect phone with 5-way navigation button and 2'' color display

Elara 60 series – fully integrated with Microsoft Teams
Download our presentation slides to learn more!
Poly Webinar Q&A Session
Q:Polycom's online training has always been horrible and Plantronics training has been amazing. I hope you will adopt the Plantronics training platform.
A: We apologize that Polycom training is not up-to-date yet. Plantronics acquired Polycom and Polycom university is being refreshed so we are getting better! We have different teams working with different groups and we have dedicated technicians to help service providers!
Q: Can you plug Poly Studio into a TV?
A: Poly Studio only has a USB cable but you can plug it into your laptop and use the HDMI from your laptop to go into the TV. 
Q:What Hardware is required to use PDMS-SP?
A: No specific hardware is required. The hardware you are using is irrelevant to PDMS-SP. You just need to enroll. Contact our VoIP experts at 1-800-398-8647 or [email protected] to enroll! 
Q: How do I set up PDMS and can I add existing devices?
A: Email our VoIP experts at [email protected]. We will engage you with the Poly team and help you set up your PDMS. You need to be a poly partner to get the access. Fill out a form here to become a Poly partner! There's no cost for becoming our partner.
Q: How to sign up to become a Poly reseller?
A: Fill out a form here to become a Poly partner
Q: I am a Poly Partner, but the PDMS looked like it was limited to OBI devices.
A: No, it's not true. 98% of all Poly devices work with PDMS. We are still working to combine Poly and OBi platforms/devices, however; you should be able to use PDMS for Poly ATAs, Studio, and all Poly phones now.
Q: Does PDMS-SP manage only Poly hardware?
A: Correct, PDMS-SP manages Poly and Poly Obi devices.
If you want to learn more about Poly's PDMS or have further questions, please feel free to contact our VoIP experts at [email protected] or 1-800-398-8647!