VoIP Q&A: Polycom SoundStation IP 5000 Conference Phone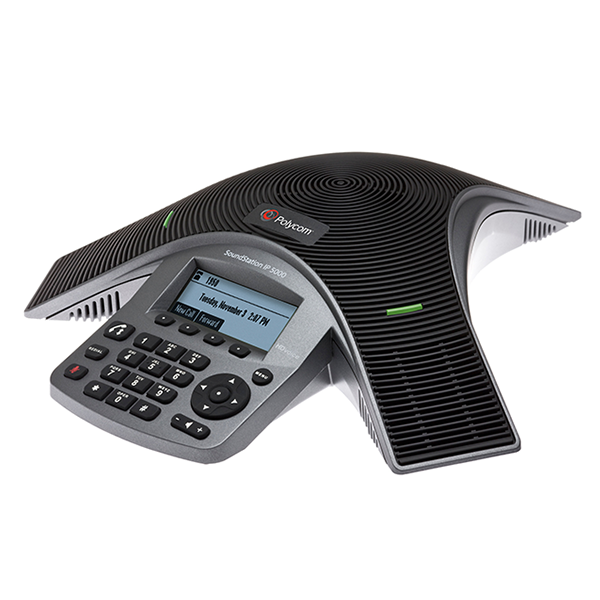 Questions about VoIP devices and services are regularly submitted to VoIPSupply.com through a technical support ticket or via the "Ask The Expert" tab on our product pages.
We respond to these requests directly but more often than not, this Q & A would be helpful for lots of other folks.
Below are your VoIP questions answered – Real questions from real people just like you.
Q: How do you connect two calls to make a conference call [Polycom IP 5000] whether they call in or we call out? 
A:   The Polycom SoundStation IP 5000 Conference Phone is a 1-line SIP phone that allows you to create conferences with up to two other groups or, callers.
There's a couple of ways to host a conference:
Use the "Confrnc" soft key (top row of buttons with functions that display on the screen above)
Or, when you already have an active call and a call on hold, use the "Join" soft key
After you set up the conference, you then have 3 options:
Place the conference call on hold
Split the conference call into two calls on hold
Hang up and end the conference call and your connection
Now that the basics are out of the way lets get to your two scenarios.
Scenario #1: Both Conference Parties Call-In
You'll be using the "Join" soft key in this example:
When the first caller calls you, place them on hold.
When the second caller calls you, press the "Join" soft key
You've now just created a conference call with the second caller (active call), the first caller (the held call), and yourself (you've been there all along).
Scenario #2: You Call Both Parties to Set Up Conference Call
You'll be using the "Conference" soft key in this example:
Call the first party.
Press the "Confrnc" soft key. This places this active call on hold
Dial the number of your second party
Press the "Send" soft key.
When the second party answers, press the Confrnc soft key to join all parties in the conference
Need More IP 5000 Feature Info?
For all the detailed features and functions, check out the Polycom IP 5000 User Guide.
Don't Talk Over My Shoulder – Echo Cancellation
What's so great about the IP 5000, it's been around for a few years now, you ask? One reason is the echo cancellation because, as this funny Polycom vid points out, you don't want your calls to sound like someone's talking over your shoulder:
IP 5000 Overview
For a more detailed overview of the IP 5000, watch our video here:
Stay Tuned
Check back next time for more VoIP Q & A.
Thanks for your questions!