Polycom Used and Refreshed IP Phones
For the month of March, we are featuring Polycom products for our dose of Refresh, refurbished IP phones. Refresh offers great quality used products for less. All Refresh products come with a 6-month no questions asked warranty. That being said, what are you waiting for to check out our Refresh line? See all product here!

Our featured products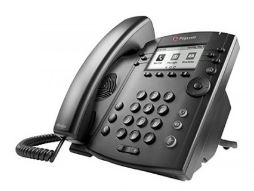 The VVX 311 is a 6-line entry-level business phone for any user who handles moderate to low call volumes. This is the phone for cubicle workers or for an office attendant who takes a good number of calls on a daily basis. The VVx 311 provides great features such as crystal clear audio with Polycom's HD Voice and an intuitive easy to use user interface.
The VVX 311 can be deployed on your existing network so that you don't have to upgrade your call platform on your desktop devices.
Top Features of the VVX 311
Backlit grayscale graphical LCD (208 x 104)

6 line or speed dial keys

HD Voice up to 7KHz on all audio paths (Speaker, Handset, Headset)

2 x Ethernet 10/100 or GigE (VVX 310)

Asian character support

Hard Keys: 12-key dial pad, home, speaker, mute, headset, volume, messages, hold, transfer

4-way navigation cluster with center "select" key

Supports VVX Expansion Module and VVX Color Expansion Module (Expandability up to 3 modules)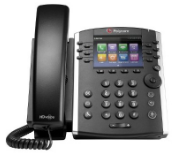 The Polycom VVX 410 is a 12-line expandable media phone that boasts a larger color-screen display and dual gigabit ports. The VVX 410 is designed for the office worker who needs a great quality, feature-rich device on a daily basis.
Top features of the VVX 410
3.5″ TFT (320 x 240)

12 lines (programmable line keys)

HD Voice up to 7KHz on all audio paths (Speaker, Handset, Headset)

2x Ethernet 10/100 or GigE

Hard Keys: 12-key dial pad, home, speaker, mute, headset, volume, messages, hold, transfer
Polycom phones easily integrate with third-party Unified Communications and productivity applications. Even better, Polycom phones feature Zero Touch Provisioning and web-based configuration making Polycom phones easy to deploy and administer so that users can reduce deployment and maintenance costs.

Polycom IP5000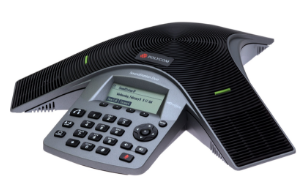 Do you need a conference phone? If you are in the search to enhance your conference calls then Refresh also has you covered with the Polycom IP5000.
The IP5000 is ideal for small conference rooms or huddle rooms, providing full-duplex technology for clear calls with no voice lag or voice drops. This is a great conference phone for meetings of up to 6 participants where they are sitting up to 7 feet away from the device.
Polycom HD Voice for high-fidelity calls at up to 7 kHz – conference calls that sound as natural as being there

Polycom's patented Acoustic Clarity Technology – delivering the best conference phone experience with no compromises

7-foot microphone pickup

Integrated PoE with optional AC power adapter

High-resolution 248 x 68 pixel white backlit LCD display with custom intensity control

Shared call/Bridged Line appearance and Busy Lamp Field

Corporate Directory access, user-configurable contact directory and call history

Multi-language support

Compatible with a broad array of SIP call platforms to maximize voice quality and feature availability while simplifying management and administration

Supported codecs: G.711, G.729a, G.722, iLBC

Does NOT ship with an AC Power Supply. If you are not using it on a PoE enabled network, remember to add on the optional Power Supply!
Do you have questions about Refresh or want to find out more about any of the products listed here?  Call our VoIP experts at 1-800-398-8647!