Polycom VVX1500 Overview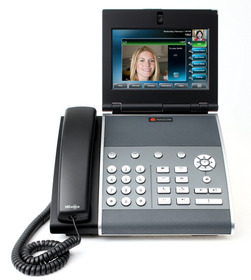 In my last two posts I discussed the features and highlights of the Polycom video conferencing units HDX 4000 and HDX 6004.
Now it's time to take a look at the Polycom video phone, VVX1500.
Polycom VVX1500 Multimedia Phone
While this offering from Polycom can accurately be called a video phone, as it is a phone that has video capabilities, Polycom calls it a "Business Media Phone."  Call it what you will, it measures up to Polycom's usual high standards of excellence while combining audio and video in one desktop unit.
The VVX1500 is a SIP video phone with great audio and video quality that uses relatively low bandwidth and is becoming very popular in the small business space.   It has a high resolution 7 inch wide-screen color TFT touch screen LCD display that makes set up and use a breeze.
A small video camera is mounted in the top of the LCD display, and can be adjusted vertically without having to adjust the position of the LCD display.  The phone also comes equipped with an excellent XML micro-browser, a superb speakerphone (as all Polycom phones do), and allows for easy and reliable video calling over IP.
The Polycom VVX1500 comes with numerous multimedia features.
It can act merely as a standard IP phone, similar to the Polycom SoundPoint lineup, and even has the same firmware as the lesser Polycom phones.  However, it is also very much more.
One interesting feature is that the VVX1500 has a "picture frame" mode, where the display turns into a digital photo frame while the phone is idle.  It also provides an enhanced display for the built-in XML micro-browser, and comes bundled with several applications including the Polycom Productivity Suite, which enables users to initiate and control audio conference calls right from the touch screen and also record audio calls locally using a flash drive in the phone's USB port.
The Polycom VVX1500 has all the normal external connections, and the handset and headset connections are via RJ-9 connectors.  The phone has dual Gigabit Ethernet connections, so it can act like a 2 port switch and only requires one network drop at each workstation to provide network connection to both the phone and PC.  It can be powered by a 48VDC power supply and also is PoE compatible, supporting 802.3af standard power-over-ethernet.
The phone also has an adjustable stand, which the SoundPoint series does not, and has buttons that are larger than the SoundPoint series as well.  The major function keys on the phone are internally backlit by blue LEDs when the related function is active.
Other Polycom VVX1500 Technical Specifications
Now let's look at a few of the phone specs:
CALL HANDING FEATURES: 6 SIP registrations;  shared call/bridged line appearance;  BLF;  call timer and call waiting;  call transfer, hold and forward;  local three-way audio conferencing;  one-touch speed dial/redial;  Do not disturb function;  Electronic Hook Switch capable.
VIDEO STANDARDS AND PROTOCOLS: H.261, H.263, H.263+, H.264, CIF or SIF resolution transmit and receive video up to 30 fps.
CAMERA: 2 mega pixel camera; 30 cm to infinity fixed focus;  privacy shutter;  picture in picture for near end camera;  full screen or window for far end camera.
POLYCOM VVX1500 COMES WITH: VVX1500 console, handset with handset cord, Network (LAN) cable, Quick start guide, Product registration card.