Q&A: Is the Fanvil H3 Hotel Phone Supported in CompletePBX?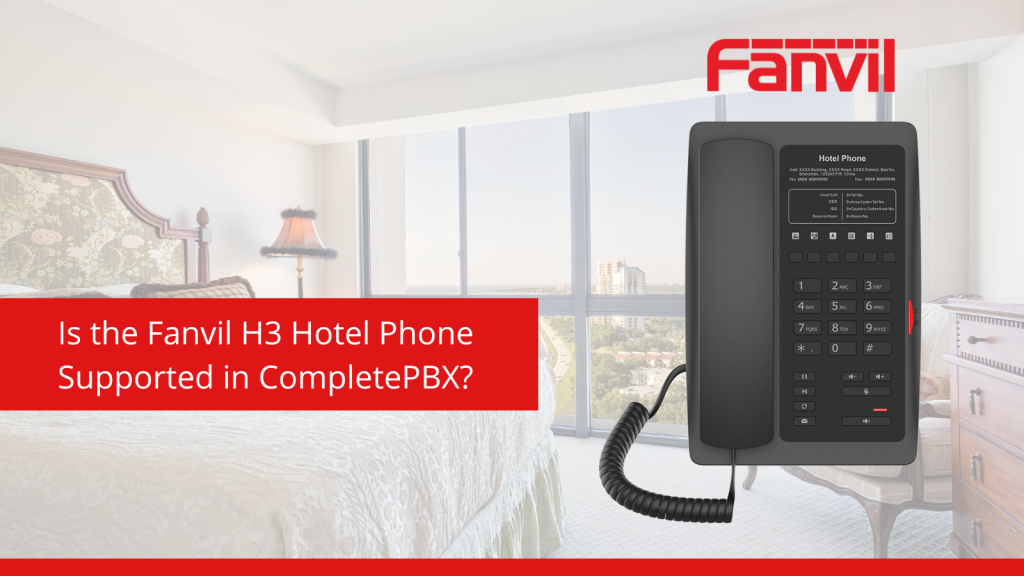 The Fanvil H3 Hotel IP Phone is now supported in CompletePBX.
Xorcom released a new version of CompletePBX, version 5.2.13. CompletePBX 5.2.13 added the Fanvil H3 Hotel IP phone to EPM.
Now that Fanvil H3 Hotel IP Phone is supported in CompletePBX, these phones can take advantage of the following improvements and bug fixes that come with the new CompletePBX Release – 5.2.13:
PBX Improvements
Improved API functionality – some functions worked differently from expected: announcements, destroy_announcement, modify_announcement, custom_destinations, destroy_custom_destination, modify_custom_destination
Extension defaults are inconsistent between GUI and API
IVR data collection – AMI and CEL events are now generated when IVR goes to Invalid or Timeout, allowing later presentation of such data.
New features added to Bulk Modification (PBX -> Extensions -> Bulk Modification):

Call waiting
Fax settings
IP phone provisioning (Endpoint Manager)
Bug Fixes
Complete Concierge licenses showed incorrect Max and Used figures
Unable to restore backup due to character encoding in some cases
Standard dialplan variables do not work in custom applications
The default class of service is not selected when creating a custom destination
Missing unique key for application users – as a result, a user may be assigned to the same application twice.
The Fanvil H3 IP Hotel Phone is an economical, yet reliable hotel phone with a contemporary appearance and excellent voice quality. The Fanvil H3 has 6 programmable soft keys that can be easily programmed for the service hotline (Housekeeping, Ticketing, Switchboard, Food and beverage, etc) and the hotel's considerate services (Morning call, Voice message, etc).
Xorcom designs and manufactures business telephony solutions that support both traditional and VoIP communication. Their solutions are easy to install and maintain and are cost-effective since there are no per-user license fees.
CompletePBX is the heart of Xorcom hardware and software phone systems. Built on top of the solid Linux and Asterisk platforms, it's built for stability and performance.
Give our VoIP experts a call today at 1-800-398-8647 to find out the best options for you!
Have you used a Fanvil H3 Hotel Phone and have comments you'd like to share? Please leave a comment below.