Top 3 VoIP Questions and Answers from VoIP Supply This Week (July 17)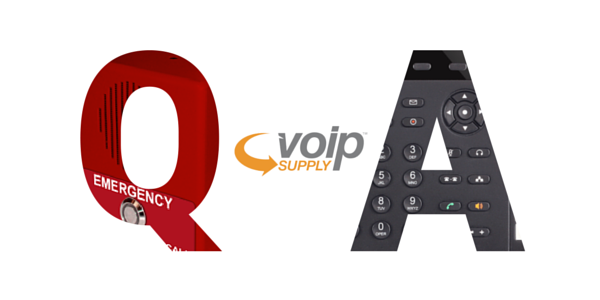 Our tech support team here at VoIP Supply offers great pre- and post-sale support plus provisioning, consultations, and configuration and installation help.
We get a lot of VoIP hardware and software questions and realized that these solutions should be shared with everyone.
Here now are our top three (real) questions and answers from this past week (from VoIP users just like you).

Q: We need to confirm that the latest UC firmware 5.4.0 from Polycom will support Skype for Business server 2015.

A: The quick answer is no.
Firmware version 5.4.0 has a bug and should not be installed.
UC version 5.3.1 will support Skype for Business (this version was released after 5.4.0) and Polycom lists firmware 5.3.0.12074 as the "Version Tested", so this and anything after will be supported including versions 5.1 or 5.3.

Q: We have an in-house phone switchboard with available analog and digital extensions. A nearby office is connected to our LAN over a wireless bridge. Is it possible to connect a phone to the LAN at the remote office and then have a device connected to our LAN in the main office to connect that phone to an extension on the switchboard? The LAN is connected to the Internet through a firewall, but I do NOT want the phone to connect as a VOIP phone through the internet but to act as an extension on our main number. We are not currently planning to switch to VOIP phones for all the extensions.
Is this possible?
A: This would largely depend on the specific PBX you have, and the LAN/WAN setup of your network. If the PBX has IP connectivity and you can register SIP devices, AND if the wireless bridge connects devices directly to your LAN, then you should be able to register the remote phone the same way you would if it was right in your office.

Q: I have a production plant and want to install a speaker that can allow me to call out the personnel down on the floor. I wish to do this through any of my current IP phones which are Yealink and are already working on my network. I need to know if this product (Advanced Network Devices Outdoor Speaker) would do the job and how would it work.
A: The Advanced Network Devices IPSWS-SM-O Outdoor Speaker that you're inquiring about is an Outdoor IP paging speaker.
You can register it as an extension on your PBX and then call it to send a page. Note that this would be one-way audio only.
That's all for this week, stay tuned for next week's VoIP Q & A.