Q&A: What are the differences between Yealink's CP960 Vs. CP965?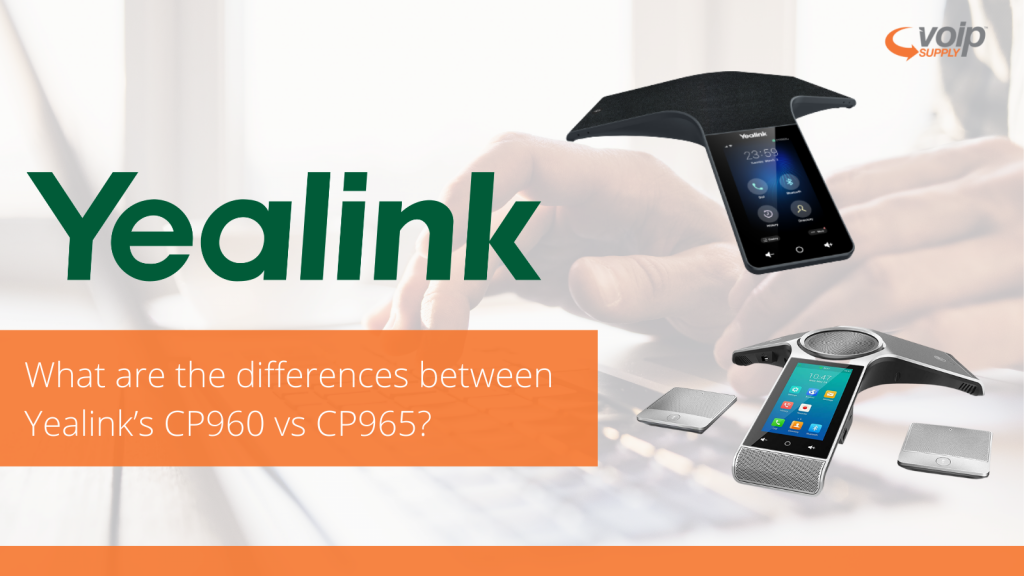 Have you checked out Yealink's latest conference phone, the CP965? Many of you must be familiar with Yealink's CP960 conference phone already, but now what are the differences between the CP960 and CP965? Let's check out a quick comparison:
Operating System: While the CP960 runs on Android 5.1; the CP960 is upgraded to Android 9.0 operating system.
Microphones: While the CP960 comes with a built-in 3-microphone array; the CP960 is equipped with a built-in 12-microphone array! Both devices have the option for wireless microphones
Conference Call: The CP960 offers 3-way conference calls; the CP965 offers 10-way conference calls
Wireless: Both devices can be paired via Bluetooth. They both have built-in Bluetooth and WiFi connectivity
Microphone Pickup Range: Both devices have a 20-foot pick up range
Touchscreen & Resolution: They have the same touchscreen size. 5-inch multi-touch screen with 720×1280 resolution
Overall, both of the CP960 and CP965 come with Optimal HD audio and great features! The CP965 runs on a newer operating system and comes with more powerful microphones to accommodate larger room settings. Check out our product pages to learn more!
Yealink CP960
Yealink CP965
– Optimal HD audio, full duplex technology
– Yealink Noise Proof Technology
– 20-foot (6-meter) and 360-degree microphone pickup range
– Two additional CP Wireless Expansion Mic CPW90
– Built-in 3-microphone array
– Based on Android 5.1 operating system
– 5-inch multi-touch screen with 720×1280 resolution
– Yealink Pentagon Meeting Room 5-way conference call
– Hybrid UC meetingBuilt-in Wi-Fi (2.4GHz/5GHz, 802.11.b/g/n/ac)
– Built-in Bluetooth 4.0 Connect to PC via USB Micro-B port

See Datasheet Here
– Red Dot [2021]
– Android 9.0
– 5-inch multi-touch screen with 720×1280 resolution
– Optimal HD audio, full duplex technology
– Yealink Noise Proof Technology
– 20-foot (6-meter) and 360-degree voice pickup
– Built-in 12-microphone array for voice pickup
– Built-in 1-microphone array for noise cancellation
– Power over Ethernet 10-way conference call
– Hybrid UC meeting
– Built-in Wi-Fi (2.4GHz/5GHz, 802.11a/b/g/n)
See Datasheet Here