Refurbished Poly (Polycom) VoIP Phones for every office need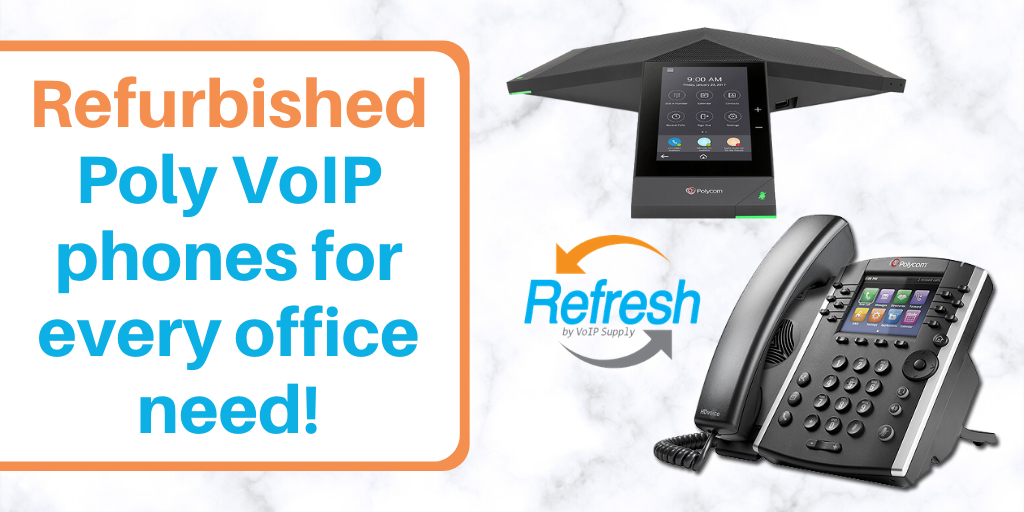 If you are into saving money and doing it well, then you need to learn about our Refresh line of used IP phones. Refresh is an avenue for small to large business owners to get their hands on quality VoIP phones at a fraction of the cost of new ones.
VoIP Supply understands that there might be some hesitation when buying used for that reason Refresh phones come with a one year warranty so that you can feel confident knowing that your purchase is protected no matter what.
Learn more about Refresh here.
Refresh phones are examined for functionality and brought up to the latest firmware before they are cleaned, packaged and ready to be shipped out of our doors working and looking as good as new.
The Polycom VVX 411 is a deskphone with a large color display, easy to use interface and support for integration with third party Unified Communication (UC) applications.
The VVX 411 can handle up to 12 line appearances and features high definition audio for clear, life-like calls.
Key features of the VVX 411 at a glance:
12 Line appearances
Polycom HD Voice
3.5″ (320×240) Backlit Color LCD
Dual Gigabit RJ45 Ports
RJ9 headset port
Built-in auto sensing IEEE 802.3 af Power over Ethernet
Optional 48V DC power supply (not included)
Easy integration with Unified Communication platforms
VVX Expansion Module support
4-way directional navigation key
12 hard keys with basic icon keys included
Wired or Wireless Headset Support
For more detailed information on the VVX 411, read the VVX 411 datasheet.

A good pick for basic phone needs is the Polycom VVX 311. The VVX 311 desk phone has a simple appearance with a backlit grayscale display and an elegant black design. It is great for scenarios like a main reception space, a kitchen, cubicle spaces and contact centers.
The VVX 311 can handle up to 6 lines and features HD Voice.
Key features of the VVX 311 at a glance:
6 line or speed dial keys
Asian character support
Backlit grayscale graphical LCD (208 x 104)
HD Voice up to 7KHz on all audio paths (Speaker, Handset, Headset)
2 x Ethernet 10/100 or GigE (VVX 310)
Hard Keys: 12-key dial pad, home, speaker, mute, headset, volume, messages, hold, transfer
4-way navigation cluster with center "select" key
Supports VVX Expansion Module and VVX Color Expansion Module (Expandability up to 3 modules)
Skype for Business and Office 365 Cloud PBX interoperability (order "Skype for Business Edition" codes ending in "-019")
For more detailed information on the VVX 311, read the VVX 311 datasheet.
For your voice conferencing needs, Refresh has options for you such as the Polycom Trio 8500 Conference Phone.
The Trio 8500 is great for medium conference rooms and can pick up voices up to 14 feet away 360°. It has a 5" touch screen display that is intuitive to use and makes making and receiving calls simple.
With noise block technology, the Trio 8500 has been designed to provide clear calls that get rid of any background noise not related to the call at hand. Also featuring HD Voice, your calls will be crisp and clear from beginning to end.
Key features of the Trio 8500 at a glance:
QoS Support
5-inch color LCD (720 x 1280 pixel)
On-screen virtual keyboard
3 cardioid microphones
14ft/4.3m microphone pickup range
Polycom® HD Voice™
Polycom® NoiseBlock™
Voice activity detection
Polycom Zero Touch Provisioning
Polycom® Acoustic Clarity™ technology
Open SIP and Microsoft Lync 2013/ Skype for Business/Office365 Cloud PBX
For more detailed information on the Trio 8500, read the Polycom Trio 8500 datasheet.
For these and more Refresh products check out our Refresh catalog.

Have questions about Refresh? We'd be happy to chat with you! Give us a call at 1-800-398-8647.