First Look: Revolabs Wireless VoIP Conference Phones
What Is It?
The innovative Revolabs FLX System is the only wireless VoIP conference phone on the market today.
Revolabs is the premier audio solutions provider of wireless unified communications products that allow you to cut the cord and create free-flowing workspaces.
What Does It Do?
Used for both audio and video communications, the Revolabs FLX now benefits from Revolabs' revolutionary audio technology that was once reserved for the largest of conference rooms and board rooms.
Now, with the FLX, small to medium-sized conference rooms, executive offices, or home offices can leverage the best audio quality with the freedom of wireless mobility.
Who Is It For?
Not your traditional conference phone, the Revolabs FLX system is a dual-purpose solution eliminating the need for a separate desktop and conference phone.
The flexibility of the included wireless FLX dialer is not only used to set up a conference call but it acts just like a regular telephone handset for private calls before, during, or after a conference call.
Why Are You Yelling?
The Revolabs FLX may be sleek and compact but unlike the small conference phones you're used to, your group no longer has to huddle around the device or shout across the room to be heard on the other end.
Instead, FLX users can enjoy a more natural conference room setting because with the FLX's separate wireless components you have more freedom to place the speaker, dialer, and microphones where they make the most sense.
The FLX comes standard with two interchangeable microphones in your choice of directional, omnidirectional, or a wearable model so that a presenter can move freely about the room.
Compatibility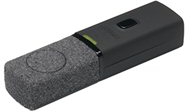 The Revolabs FLX has a range of features including:
Compatibility with leading video conferencing system brands.
Is Bluetooth enabled for connection to your cell phone or computer
Has an encrypted voice signal for secure calls.
The FLX system will not steal Wi-Fi bandwidth or interfere with other radio signals.
Availability
The Revolabs FLX system is available now!
Bring a whole new dimension to your VoIP conferencing by adding the only wireless VoIP conference on the market that provides so much more flexibility for audio and video project collaboration, webinars, Skype, and distance learning.