Save the Date: Connect Your Business with VoIP Supply at the Miami Small Business Expo

Do you have a lot of VoIP questions waiting for answers and don't know where to start? Are you interested in exploring the opportunities to make your business easier or grow faster? Now is your chance to get the answers all at once!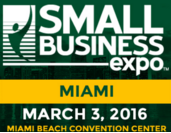 VoIP Supply is exhibiting at the Small Business Expo 2016 in Miami. We are here to help with any VoIP questions and  to customize the best VoIP solution for you.
The event will be held at the Miami Beach Convention Center on Thursday, March 3rd, 2016 from 9:30 a.m. to 5:00 p.m.VoIP Supply will be atbooth 511. This event is FREE to attend. Register HERE today!
What you can benefit from visiting VoIP Supply at the Small Business Expo
1. Learn new VoIP solutions and services that will save you and help your business grow
2. FREE CloudSpan Marketplace Consultation which includes:

An evaluation of your current situation
Pricing, and solution comparisons from multiple providers
A deep dive into what features are needed to make your business successful
3. Network and reconnect with VoIP Supply
4. Drop your business card or get it scanned by us at the show to win a free Invoxia phone worth $499 at VoIP Supply booth
Can't make it to the Expo in Miami?
Not a problem. You still have the chance to network with us! In addition to the Small Business Expo 2016 in Miami, VoIP Supply will also be attending  the other two shows in Chicago on April 21st 2016 and New York on June 9th 2016.
If you have any questions about the expo, please visit Small Business Expo website or contact us today at 866-582-8591 or [email protected]. We look forward to meeting you in the event!