Taking Spectralink to a Different Level- the Desktop
Why We Love Spectralink
What's not to love… all the mobility of a cell phone in a secure VoWiFi handset that we can hang on a lanyard or clip onto our belt.  With the introduction of the Spectralink 8440  and Spectralink 8450 we have HD Voice, a color choice, and a cool user interface and even the ability to barcode scan right into our laptops.
Now the Spectralink WiFi phone by Polycom is even more verticalized for Healthcare and Manufacturing applications while still being perfect and slick looking for hospitality and retail.
Why We (I) Hate Spectralink
I  hate talking into a phone. Period. I hate holding a phone to my ear. It is cumbersome, I need my hands for doing my job, not holding my phone.
Sure I can use a wired or Bluetooth headset with my Spectralink handset, but what can I say, I am a Diva and I don't want stuff hanging on my ears either. I want everything with none of the inconvenience.
For those times when I am not running through the hall or in the warehouse, Spectralink has a solution for me! FINALLY! The new Spectralink 8410 Speakerphone dock  is made specifically for the Spectralink 8440 and 8450 series handsets.  When you are not mobile, dock your Spectralink handset into the 8410 and speak handsfree with the crystal clear full duplex speakerphone featuring Polycom HD Voice clarity.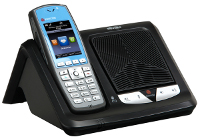 So while it is great to have the mobility of the Spectralink at my fingertips when I need it, it is even better to have loud, easy, hands-free HD Voice at my desktop when I am working at my desk.
While I let my Spectralink dock in the 8410, it also charges it. There is also a slot to charge a spare battery, thereby replacing my dual charger.
The Spectralink 8410 speakerphone dock is a must-have accessory for anyone who is both desk-bound and mobile  and has the luxury of using a speakerphone when at their desk. Not everyone has that luxury, but if you do, this accessory can definitely take some of the love-hate dynamic out of your relationship with your Spectralink 8400 series handset.