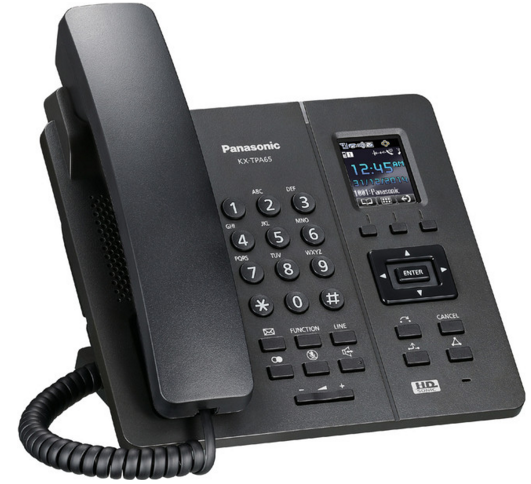 Are you an innovative thinker who appreciates avant-garde ideas? If you answered yes, then we think the TPA65 will be your cup of tea.
At first glance, it looks like a typical desk phone, but what you don't realize is that it is a DECT phone that is compatible with the KX-TGP600 smart IP wireless phone system. What does this mean? It means that the TPA65 DECT phone offers the same perks as a desk phone but without cords! It can be wirelessly connected by means of the KX-TGP600, allowing for an easier installation process and flexible use of space.
What else does the KX-TPA65 Wireless Desk Phone have to offer?
1.8" color LCD with backlight
3-color LED indicator
HD wideband audio (G.722)
Phonebook holding up to 500 addresses
Full Duplex Speaker Phone
Noise Reduction
Wideband Audio
DECT Encryption
Integrated Headset Jac
Optional Wall Mounting
And don't forget,
Easy Installation without wired LAN
The TPA65 is a great solution for users looking to have the professional look of a desk phone and its features, with the added bonus of wireless connectivity. You can place the TPA65 anywhere in a room without being restricted by telephony cords.
To find out more about the TPA65 or to chat with us for any other VoIP need, please don't hesitate to call us at 1-800-398-VoIP, and our VoIP Solutions Specialists would be glad to assist.