Unleash your Polycom Soundpoint IP Phone… Introducing the Polycom Productivity Suite Package
On April 2, Polycom introduced the release of its Productivity Suite application to run on SIP firmware version 3.0.0 and bootrom 4.0.1 on Polycom Soundpoint IP Phone models. The application was designed to allow companies to work more efficiently and effectively through state-of-the art communication tools. Three of the offerings included in the Productivity Suite specifically designed for this are:
–Visual Conference Management– which allows the user to manage a four-way conference call directly from the Polycom IP Phone display. Users have the ability to add, drop, split, mute, and place callers on hold, all by the press of a button and all managed through the local phone. This means that there is NO more calling into conference phone bridges and NO access conference codes to initiate conference calls between your customers or clients.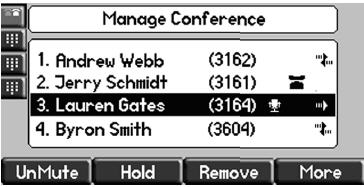 –Local Call Recording-yes that's right; "local" call recording. This function allows the user to record a call directly to the IP Phone. Call recording is only available on the Polycom IP-650 IP phone simply because that model is accompanied by a USB drive. Call recording from the local phone is very simple; plug in a recommended 2GB USB flash stick in the USB Drive of an IP-650, make or receive a call, and simply press "record." The phone will automatically begin recording the call to the external USB stick, but it goes much further than that. The phone will allow you to access the recordings in a wav file format, directly on the phone UI and then replay, rename, or delete your recordings on the USB stick. You can even replay your recordings from your desktop computer if you wish. This application will prove very useful for CEOs, upper management teams, sales managers, financial organizations, and medical firms.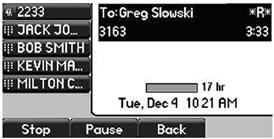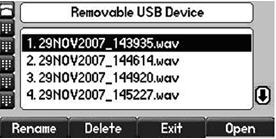 –LDAP or Local Corporate Directory Access– which allows the local user to access corporate contacts in one directory, whereas in the past, users would need to store their contacts in separate directories. Users can easily search for contacts by their first and last names, or phone number, and then filter a list by their search criteria. From the criteria users may select, view, and call the contact desired in a much more efficient and timely manner. LDAP is also compatible with Microsoft's Active Directory which allows users to access this directory from the local Polycom phone.
The next two features offered in the Productivity Suite package are designed for IT Managers' usage and accompany the following:
–Voice Quality Monitoring– which allows an IT manager to view Voice-quality metrics from the local phone through RTCP-XR (IETF RFC 3611) standard format. The phone publishes these metrics via SIP Publish which allows for easy monitoring of QOS issues. IT managers are NOT limited to what metrics they may analyze when using this feature and the phone actually offers a great deal of customization to single out a QOS problem. This drastically cuts down on the need for third-party network monitoring applications and allows the IT manager to specifically focus on one application to view, pinpoint and monitor Voice traffic.
–Third Party Call Control– which allows a third-party application to control the phone and also view the state the phone is in. This allows the Polycom phones to be easily integrated with unified communication systems such as Microsoft's OCS system, which will permit a user to view the present status of their contacts and allow calls to be initiated to their contacts all from the Polycom VoIP Phone.
The Polycom Productivity Suite and all of its available features do NOT apply to every Soundpoint IP Phone model. A listing of models and feature support is listed below: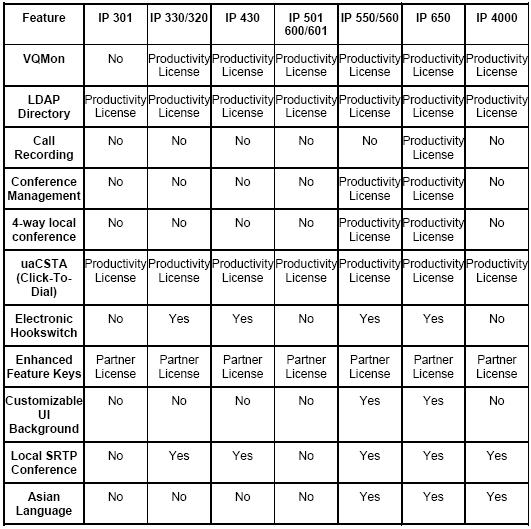 So now you may be saying to yourself, "I want this," "this is awesome technology," "and I want to able to take full advantage of it!" Let VoIP Supply assist you in your needs. If you have purchased or are considering purchasing Polycom IP Phones from VoIP Supply, we can offer you access to the SIP firmware 3.0.0 version, which is the software needed to run the Productivity Suite application. The 3.0.0 version is not publically offered on the Polycom website yet, but is offered on their private PRC website to authorized resellers such as VoIP Supply. VoIP Supply can provide you the software, release notes, and instructions on how to perform the firmware upgrade to get your Soundpoint IP Phones up to 3.0.0 SIP firmware, and allow you to perform the next step: purchasing the Polycom Productivity Suite licenses.
To purchase a Productivity Suite License, gather the serial number from the bottom of the Soundpoint IP unit (located on the backside of the phones), and then contact VoIP Supply and provide us with your serial numbers. The Productivity Suite application is provided on a per-phone basis, which means you will need to provide VoIP Supply with as many serial numbers as you wish to push the Productivity Suite application. Each phone is then verified and a Productivity License is applied to that unit. The list MSRP is $11.99 per phone. After confirmation, you will receive an email with the directions and a link needed to download the configuration file for that unit. That configuration file will need to be loaded to the a provisioning server, then you will need to point the phone to that server and use methods HTTP or FTP to load that configuration file onto the phone.