Use Polycom VVX Phones in a Loud Environment with the Algo 8180
As a VoIP consultant, I get a lot of calls from customers each day asking for recommended solutions that can fit the needs of their business.
Recently, I have received questions from customers using Polycom VVX phones in loud work environments such as warehouses, restaurants and machine shops, where they can't hear the ringtones, resulting in missing important calls. If you are facing the same issue, you may find the following solution useful.
Hear Loud and Clear with the Algo 8180 Alerter

To reduce the missed calls in a noisy or large site, we recommend you use this straightforward solution – The Algo 8180 Audio Alerter with the Algo 1506 Polycom Ring Detector.
The Algo 8180 is a SIP compliant PoE speaker designed for voice paging, loud ringing, and emergency notification.
With its high-efficient amplifier and loudspeaker, the Algo 8180 is able to generate 8 times louder tone than a normal telephone ringer.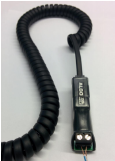 The Algo 8180's most useful features include:
Dual purpose loud ringing and talkback voice paging
SoudSure ambient noise compensation adjusts output for noise level
Selectable alert tones
PoE eliminates local power supply
Instead of adding an extension or "seat" to the noisy site, you can simply pair the Algo 8180 with the Algo 2506 detector which detects the audio from the headset jack and actives 8180 alerter directly without using SIP.
Common Setup

A basic, common setup is to have the Algo 2506 detector connect to both your Polycom VVX phone and the Algo 8180 audio alerter. When an incoming call is received by the Polycom VVX phone, the detector will trigger the audio alerter to amplify the ringtone.
You can also add an optional visual alerter or a horn speaker to work with the 8180 Audio Alerter. In this way, even when you can't hear the ringtone, you can "see" it.
What's your solution of using Polycom VVX phone in a loud environment? We want to know!
Follow the links for more information: