Using Polycom SoundPoint IP Phones with Asterisk PBX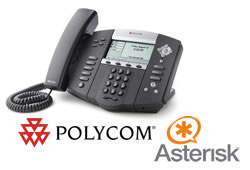 Most or our readers are likely familiar with Asterisk Open Source PBX, but for those of you who aren't, Polycom has recently put together an easy to follow technical bulletin on using their SoundPoint IP Phones with Asterisk.
This document covers all the basics of integrating Polycom IP phones with your Asterisk PBX. Key topics covered in this bulletin include:
Creating a Basic Configuration
Using the Messages key
Adding Line Busy lamps
Enabling Auto-Answer for Intercom
Paging a Group of Extensions
Using the Call Park Feature
Using the Transfer Key
Configuring Idle Display Bitmaps
Remotely Rebooting the Phone to Force a Configuration Reload
Removing Configuration Overrides
Enabling CDP
Creating VLANs
If you are already using Polycom IP phones with Asterisk or not, no doubt this is an excellent resource. You can grab it below.